Service Award: Jill Ashbrener, Five Years
Jill Ashbrener, OCC Water Quality Spavinaw Project coordinator, was recognized at the June 2012 Commission meeting for five years of service to OCC and the state of Oklahoma.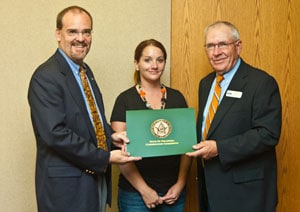 Jill began with OCC in May 2007 as plan writer for the Eucha/Spavinaw Projects and more recently became Spavinaw Project coordinator. The projects have provided more than $3 million in cost-share dollars to more than 200 cooperators in the Eucha/Spavinaw Watershed. The practices implemented have resulted in a 66 percent reduction in total phosphorus loading and an 80 percent reduction in total nitrogen loading.
"Jill has an excellent working relationship with producers and is always on the lookout for ways to improve her project, whether that means looking at new practices or holding past cooperators accountable for their commitments toward practice maintenance," her nomination form read. "However, Jill has worked hard to make sure her cooperators are recognized for their conservation (efforts) and organized a "thank you" meal for participants, funded by donations Jill and her coworkers accumulated. "Jill is also well-liked and respected by her coworkers and serves on the employee recognition committee."