Service Award: Jeanette Lamb, Five Years
Jeanette Lamb, OCC Water Quality specialist, was recognized at the June 2010 Commission meeting for five years of service to OCC and the state of Oklahoma.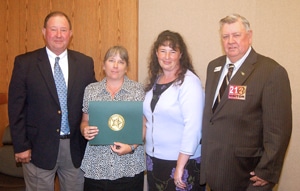 Prior to joining OCC, Jeanette worked for the University of Florida or private consulting firms for eight years doing surface water sampling on large rivers, springs, estuaries, inshore coastal waters and lakes. In the five years of employment with OCC, Jeanette has been an integral part of the Water Quality monitoring program, completing independent ambient water quality, fish and macroinvertebrate collections for the rotating basin project as well as leading or assisting with special projects or success monitoring. In addition, Jeanette always offers assistance with needed tasks around the office, including efforts in data entry, special events or education activities.
Jeanette Lamb received a Bachelor of Science degree in Fisheries & Wildlife Biology from Northeastern State University in Tahlequah in 1994. Jeanette completed a Master of Science degree in Fisheries & Aquatic Sciences from University of Florida in 2000. Jeannette's hobbies include fishing, hiking and reading.