Service Award: Jeanette Lamb, 10 Years
Jeanette Lamb, Water Quality Division monitoring and assessment specialist, was recognized for 10 years of service at the July 9, 2015 meeting of the Oklahoma Conservation Commission. Her recognition read: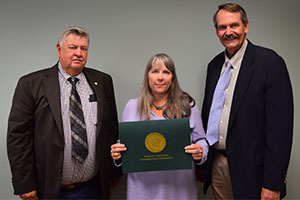 "[Jeanette] is a monitoring crew leader and conducts water quality sampling, conducts and oversees fish and macroinvertebrate collections, trains interns, has maintained autosamplers…She handles most of the inventory and supply management for the monitoring group, oversees requests for landowner permission, helps with data management and works on the site summaries that are supplied to landowners and linked to sampling sites posted on our website. She is very organized, knowledgeable, hardworking, tough and she is a great tour leader for anyone interested in a day in the field. She was recognized as employee of the year in 2007 for her work in assisting with information cataloging for the Illinois River lawsuit.
Prior to joining OCC, Jeanette worked for the University of Florida and private consulting firms for eight years doing surface water sampling on large rivers, springs, estuaries, inshore coastal waters and lakes. Jeanette received a Bachelor of Science degree in Fisheries and Wildlife Biology from Northeastern State University in Tahlequah in 1994. She completed a Master of Science degree in Fisheries and Aquatic Sciences from the University of Florida in 2000. She is a generous co-worker who often shares fine dark chocolate, healthy gourmet recipes and hand crafted fiberwork with her co-workers. She's an integral part of the water quality division team and we're lucky to have her."
Congratulations, Jeanette!