Service Award: Jean Lemmon, 10 Years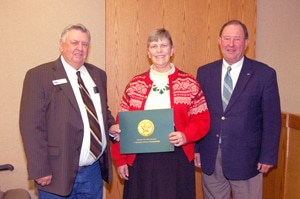 Jean Lemmon,OCC/WQ Blue Thumb quality assurance officer, was recognized at the December 2010 meeting of the Oklahoma Conservation Commission for 10 years of service to OCC and the state of Oklahoma.
Jean began as the Blue Thumb Program's quality assurance officer as a volunteer in 1997 then as an employee of the Tulsa County Conservation District in 2000 and transferring to OCC in 2003. In this role, Jean kept the volunteer monitoring effort moving forward in a such way that the volunteer-collected data is respected nationwide. Jean is also called upon to be an educator, often while working in the field.
"Jean's love of streams and rivers is evident every time she helps a new group of volunteers pull a seine for the first time," said Jean's supervisor, Cheryl Cheadle, Blue Thumb coordinator. "Jean's talent and knowledge, and her commitment to caring for Oklahoma's water bodies, has been huge in shaping the Blue Thumb Program over the years," Cheadle said.
In addition to activities within the Blue Thumb Program, Jean took the lead in putting together a photo documentation workshop for Water Quality division staff and has been asked to assist with quality assurance protocols for the Oklahoma Carbon Program. She also worked with OCC/WQ staff members to help coordinate a OCC full staff meeting at Oxley Nature Center went smoothly in October 2010.