Service Award: Brooks Tramell, 15 Years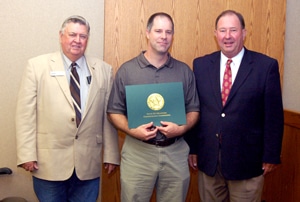 Brooks Tramell, OCC Water Quality monitoring coordinator, was recognized at the September 2010 meeting of the Conservation Commission for 15 years of service to OCC and the state of Oklahoma.
Brooks began working for OCC in 1995 after finishing his degree at Northeastern State University in Tahlequah. He's been the monitoring coordinator for the Water Quality division since 2003. He oversees the logistics of seven monitoring personnel, housed in at five different offices, who are responsible for monitoring between 130 -150 sites every year.
"Brooks is an expert in field monitoring techniques and fish identification, recognized statewide, regionally, and at the national level for the strength of his program," said Shanon Phillips, OCC/WQ director. Brooks was employee of the Year in 2010 and is an outstanding example of a Conservation Commission employee, Phillips said.
Although his heart is in eastern Oklahoma, Brooks lives in Edmond with his wife Cheryl, son B.K., and brand-new baby girl Jolie.