Service Award: Jason Ramming, 10 Years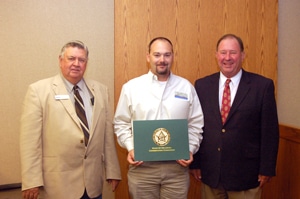 Jason Ramming, OCC/WQ water quality specialist, was recognized at the September 2010 meeting of the Oklahoma Conservation Commission for 10 years of service to OCC and the state of Oklahoma.
Jason started with OCC as a water quality specialist in 2000 after completing his bachelor's degree at Southwestern Oklahoma State University. For the first few years of his position, he commuted to the Oklahoma City office from Hinton everyday, but he's now based out of the North Caddo Conservation District office in Hinton.
In addition to regular rotating basin and probabilistic sampling, Jason maintains automatic water samplers for the North Canadian River Project and that task can require him to work odd hours when it rains. Jason has also accepted monitoring responsibilities for special projects when monitored to help the Corporation Commission evaluate potential impacts from oil and gas activities. "That work strengthened the relationship with some of the Corporation Commission staff to the point that they became strong supporters and defenders of OCC programs whenever the opportunity arises," said Shanon Phillips, OCC/WQ director.
Jason and his family live in Hinton where he is also a no-till farmer.