Service Award: Janet Stewart, 20 Years
Janet has excelled as general counsel to the Commission since 2007. In addition to performing legal research and litigation on behalf of OCC and conservation districts, Janet assists in real estate issues, state and federal law / legal research, drafting contracts and agreements, negotiating disputes, and enforcement of watershed easements. Janet has been named Commission Employee of the Quarter twice. She is frequently known to provide assistance well beyond the bounds of her job description as well.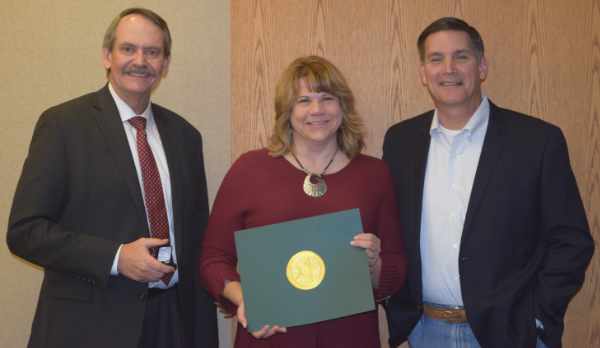 Prior to working with OCC, Janet served nine years with the Oklahoma Department of Agriculture, Food, and Forestry, and was a prosecutor for the city of Dallas (a job from which she has some very interesting stories to tell). She received her Juris Doctorate from the University of Tulsa and her undergraduate degrees in biology and sociology with a minor in chemistry from Southwestern Oklahoma State University.
Good employees leverage their talents and skills to fulfill job duties thoroughly and efficiently. Great employees do so with a consistently productive and "team first" attitude. Whether facing the daily "20 questions" routine or "advocate under fire" role, Janet blends work ethic, consistency, professionalism, and people-first attitude in such a way that seems more the exception in today's professional work environment.
Janet is a valuable member of the staff and we appreciate her 20 years of service to the State of Oklahoma.