Service Award: Janet Stewart, 15 Years
Janet Stewart, Oklahoma Conservation Commission (OCC) general counsel was recognized for 15 years of service to the state of Oklahoma at the November 4, 2013 Commission meeting.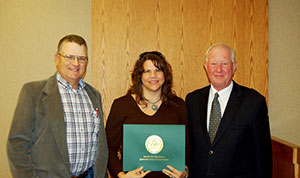 Janet has excelled as counselor to the Commission since 2007. In addition to performing legal research and litigation on behalf of OCC and conservation districts, Janet assists in drafting contracts and agreements, negotiating disputes, and enforcement of watershed easements.
Prior to working with OCC, Janet served nine years with the Oklahoma Department of Agriculture, Food, and Forestry, and was a prosecutor for the city of Dallas (a job from which she has some very interesting stories to tell). She received her Juris Doctorate from the University of Tulsa and her undergraduate degrees in biology and sociology with a minor in chemistry from Southwestern Oklahoma State University.
The Conservation Commission and conservation community at large owe you a debt of gratitude. Thank you, Janet.