Service Award: Gina Levesque, Five Years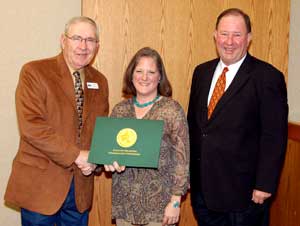 Gina Levesque, coordinator of the Conservation Reserve Enhancement Program (CREP) for OCC's Water Quality Division, was recognized for five years of service at the December 2011 meeting of the Oklahoma Conservation Commission. Gina started with OCC in October 2006 as coordinator of the Eucha/Spavinaw Water Quality Project.
In April 2007 Oklahoma Governor Brad Henry and U.S. Deputy Agriculture Secretary Chuck Conner signed an agreement between USDA and Oklahoma to establish the first Conservation Reserve Enhancement Program in the state. The goal of that program is to create up to 9,000 acres or 370 miles of riparian buffers and filter strips. The conservation plantings reduce the flow of nutrients, sediment and other pollutants in the Spavinaw Lake and Illinois River/Lake Tenkiller watersheds. Shortly after that Gina was selected to fill the role as coordinator for the CREP project.
Some of the accomplishments of the CREP to date include the following:
46,646 linear feet of fence installed with 22,025 more contracted
65,082 bareroot seedlings planted
One pond, three wells, two watering facilities and one heavy use area installed
865 feet of pipeline installed with 1,150 more contracted.
More than $149,905 paid in cost share for best management practices (BMPS)
With nearly 900 acres enrolled in CREP combined with acres enrolled in federal Clean Water Act Section 319 programs and programs offered through the Oklahoma Scenic Rivers Commission, there are more than 2,000 acres of protected riparian areas in the Illinois River watershed. The money paid out in cost-share practices for BMPs combined with land rental payments and signup incentive payments totals more than $1 million dollars.
Shannon Phillips, OCC/WQ director, said Gina is also a textile and fiber artist — weaving, spinning and working with natural dyes. She works out of Tahlequah and she and husband Larry have two daughters, Lena and Claire.