Service Award: Gina Levesque, 10 Years
Gina Levesque was recognized for 10 years of service to the state of Oklahoma at the November 3, 2014 meeting of the Oklahoma Conservation Commission. Gina is the Conservation Reserve Enhancement Program coordinator, which works with landowners to implement conservation practices in the Eucha-Spavinaw watershed. Gina's program has enrolled nearly 3,000 acres of streambank into the program while a sister program with higher incentive payments in a neighboring state has less than 100 acres enrolled.
A portion of her recognition read: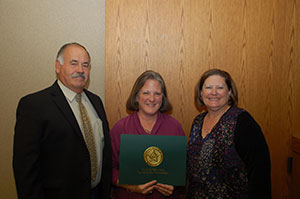 "Gina has also worked on several stream channel restoration projects in the watershed, including writing proposals for funding, coordinating landowner agreements, designing riparian plantings and working with local nurseries to grow and supply those plants at free or reduced rates, and anything else she can do to help facilitate such projects. She has been attending trainings on natural channel design led by one of the founders of the method, which is a huge benefit to the agency as we seek to do more of these projects in other parts of the state. She will be putting that training to use as she leads a workshop for Blue Thumb volunteers on fluvial geomorphology and natural channel design restoration."
Gina was named Employee of the Year in May.