Service Award: George Moore, 20 Years
Depending on the type of person you are, when you hear the word "pioneer," you probably think either of covered wagons on the Oregon Trail or quality consumer-grade electronics. Twenty-year conservation veteran, George Moore, is a pioneer for a different reason. George began his conservation career in 1994 as a district employee with Custer County Conservation District where his quality performance led to his selection as one of the first Watershed Technicians for the Oklahoma Conservation Commission (OCC)—a pioneering position unique to Oklahoma and not found in any other state to date.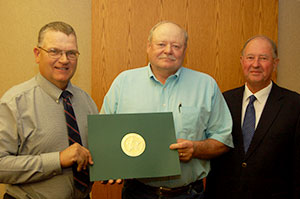 "George is a team player who contributes to the Conservation Programs Division team, the Watershed Technician team, the Watershed Aide team, and the Dam Safety Incident Management team," said Robert Toole, OCC assistant director.
George provides technical support to 22 conservation districts to assist with the operation and maintenance (O&M) of more than 700 watershed dams. He assists those districts with inspections, the diagnosis of O&M issues needing attention, recommendations for resolving the problem, and participates in performing the work necessary. George also responds to emergencies involving watershed structures and assists districts in mitigating damages.
George has made the most of his time outside of the Commission offices as well. He has served six three-year terms as the mayor of Butler, Oklahoma, been Butler's fire chief for five years, and served as a member of the fire department of 28 years.
Your service is greatly appreciated, George!