Service Award: George Moore, 15 Years
George Moore, OCC Conservation Programs watershed technician, was recognized for 15 years of service to OCC and the state of Oklahoma at the July 2009 Commission meeting. Robert Toole, OCC/CP director, cited Moore and the other two OCC watershed technicians Johnny Pelley and Dennis Boney as being unique in the nation as no other state has similar full time positions.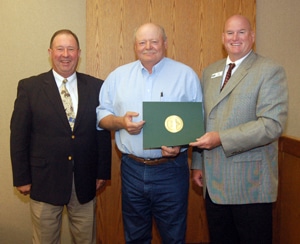 Moore has worked at OCC for 11 years and previously was district manager at Custer County Conservation District. He is personally responsible for overseeing and assisting with operation and maintenance on 700 of Oklahoma's more than 2,100 small watershed upstream flood control structures.
In recent years Moore has been instrumental in facilitating the purchase of equipment by the South Western Oklahoma Development Authority for conservation districts. The equipment purchases totaling over half a million dollars include "skid steers" (compact track loaders), spriggers and no-till drills. The districts include Upper Washita, Washita, Mountain View, North Fork of Red River, Comanche County and North, South and West Caddo Conservation Districts.