Service Award: Gene Spurlock, 30 Years
Gene Spurlock, OCC/AML inspector, was recognized for 30 years of service to OCC and the state of Oklahoma at the March 2012 meeting of the Oklahoma Conservation Commission.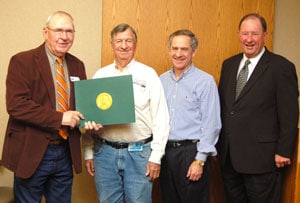 Gene is a project inspector for OCC's Abandoned Mine Land Reclamation Program (AML). Mike Kastl, AML director, stated that Gene started his career at a conservation district, then worked an entire career for the U.S. Soil Conservation Service (SCS). Upon retirement from that job, he came to work for the state in the AML division, and has served 18 years in that position. His years of service at the conservation district combined with those at OCC total 30 years of service to the state.
Upon graduation from high school in Claremore in 1951, Gene went to work as machinery manager for Rogers County Conservation District. In 1958 he joined SCS in a survey crew for the Upstream Flood Control Program. In 1961 he was stationed in Bristow when he married his wife Jennie. After three weeks in Bristow, he was sent to Idabel as survey crew chief. After being stationed at locations around the state including Tulsa and Claremore, and changing to the position of Soil Conservation Technician, Gene retired from SCS. He joined OCC's AML division in 1989 and worked his first project in Craig County. He also worked on AML's first reclamation project in Rogers County, the county that has subsequently had the largest number of AML projects.
Kastl commended Gene as someone who wouldn't limit his activities, but would do whatever was necessary to get the job done.