Service Award: Dianne Ireton, 35 Years
Dianne Ireton, Administrative Officer for the Abandoned Mine Land (AML) Reclamation Program, was recognized for 35 years of service to the state of Oklahoma today at the January 2022 meeting of the Oklahoma Conservation Commission (OCC).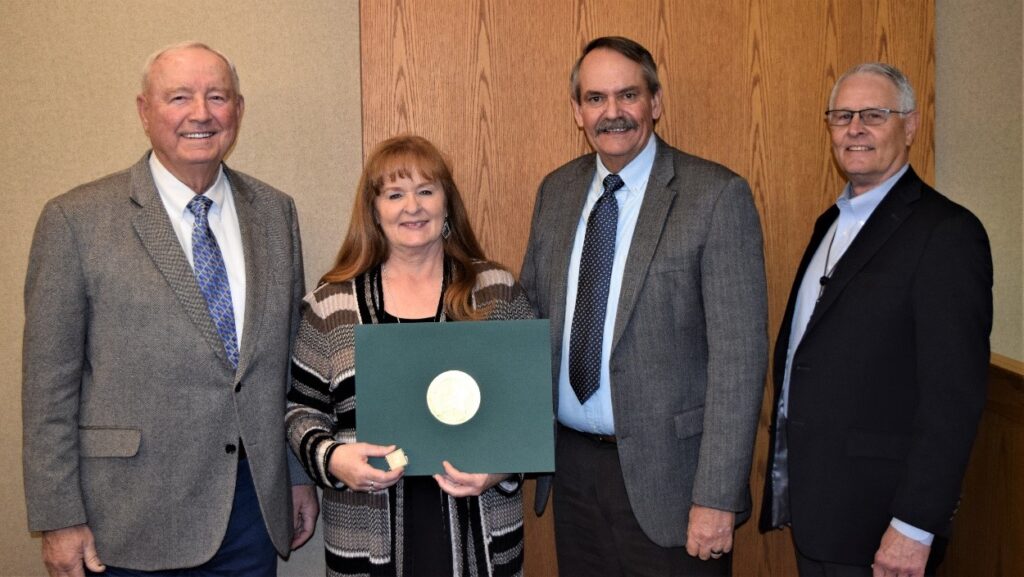 It was 35 years ago that Dianne was hired as a temporary employee to perform word processing and data base development. Her skills and quality of work were quickly recognized as an asset to the OCC Abandoned Mine Land Reclamation Program and she was moved to a full-time position. Dianne's performance consistently exceeds standards in her position as administrative officer for the Abandoned Mine Land (AML) Reclamation Program.
Dianne's education, experience, skills and institutional knowledge of the AML Program make her a tremendous asset to the Program and to OCC. She performs a wide spectrum of functions including administrative, management, database development and maintenance, financial management, information, education, statistical, contract management and emergency response. Dianne monitors email and telephone calls after normal work hours and on weekends and responds to AML emergencies regardless of timing.
Dianne is well-known and highly respected within the Office of Surface Mining Reclamation and Enforcement (OSMRE) and the National Association of Abandoned Mine Land Programs (NAAMLP). In 2012, the NAAMLP recognized Dianne with their highest award for dedication to abandoned mine land reclamation and service to the NAAMLP.
Dianne's customer service is exemplary, her teamwork is positive and encouraging, her problem-solving excels and her initiative is commendable.