Service Award: Dianne Ireton, 25 Years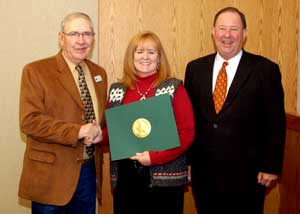 Dianne Ireton, OCC Abandoned Mine Land Reclamation Program's systems coordinator, was recognized for 25 years of service at the December 2011 meeting of the Oklahoma Conservation Commission.
Dianne started with OCC 1986 with the title word processor operator. Over the years her responsibilities have evolved and her title has changed as well, to administrative assistant and to the current title of systems coordinator. She has a key role in the AML Emergency Program that deals primarily with sudden and unanticipated subsidences of abandoned underground mines. In those cases where lives or property might be in jeopardy, action must be taken quickly to remedy the hazardous situation.
Dianne designed and managed the National Association of Abandoned Mine Land Programs website. Her design was selected as the winner of the contest to create a new agency logo for OCC that is currently in use. A long time participant in helping stage the National Land and Range Judging Contest, she was selected as official Contest Honoree for 2011. (see National Land & Range Judging Contest 2011 Honoree Dianne Ireton)
Dianne and her husband Roy live in Choctaw and have two grown sons.