Service Award: Dennis Boney, 30 Years
Dennis Boney, OCC Conservation Programs Division watershed technician, was recognized for 30 years of service to OCC and the state of Oklahoma at the July 2016 meeting of the Oklahoma Conservation Commission. Working out of his office in Pauls Valley, Dennis is responsible for supervision of the operation and maintenance (O&M) of approximately 700 Small Watershed Upstream Flood Control Program dams in southeast Oklahoma.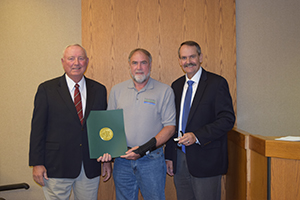 Before joining OCC Dennis worked for the Garvin Conservation District for 12 years. With 146 flood control dams in the district to look after, Dennis's role gradually shifted to more and more focusing on carrying out O&M on those structures. Dennis then joined OCC as part of the watershed technician team within OCC's Conservation Programs Division. He has participated in National Watershed Coalition workshops in Oklahoma, Texas and Kentucky and is known nationally for his knowledge and skills in watershed O&M and for his innovative ability to get maximum results with a minimum of equipment. He spearheaded OCC's watershed aide program in which a district employee responsible for local watershed O&M is jointly supervised by the local district board and an OCC watershed technician. The program began in Seminole County and Konawa Conservation Districts and, having proven successful, is spreading to other conservation districts.
In his spare time Dennis enjoys woodworking and motorcycles and cars and has a fully restored 1965 El Camino. He is nationally known for "noodling" — in-water, bare handed fishing.