Service Award: Cheryl Cheadle, 20 Years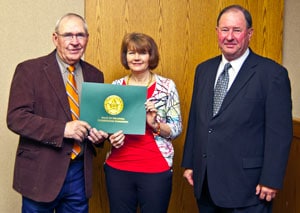 Cheryl Cheadle, OCC/Water Quality Blue Thumb Program state coordinator, was recognized at the March 2012 meeting of the Oklahoma Conservation Commission for 20 years of service to OCC and the state of Oklahoma.
Cheryl started her conservation career as district manager for the Tulsa County Conservation District. She spent five years in that position, which included helping get started a new, urban water quality effort — the Blue Thumb Program. Then she was hired to run that program for OCC's Water Quality division. The Blue Thumb water pollution education uses volunteers to perform stream monitoring, screen groundwater, and educate the public about water pollution prevention. In this capacity, Cheryl gets to travel throughout the state of Oklahoma visiting conservation districts, volunteers, and numerous streams and rivers. As the Blue Thumb program has grown and Cheryl has had the chance to enjoy Oklahoma and the beauty the state offers, she has become more and more lead to understanding how important it is that people feel a connection with nature. 
Cheryl says that "Even though the Blue Thumb Program's official slogan is 'Stream Protection through Education,' an unofficial slogan is "Off the couch and into the creek!'"
Cheryl grew up in Henryetta and graduated from Oklahoma State University in 1981 with a BS degree in wildlife conservation. She has two grownt children, lives in Glenpool and offices in Bristow.
"Conservation, outdoor education, resource protection – caring for the earth is my passion," Cheryl said, "and I am blessed to have a job that lets me put so much energy into this."