Service Award: Candice Miller, 5 Years
Candice Miller was recognized at the April 2018 meeting of the Oklahoma Conservation Commission for five years of service to OCC and the State of Oklahoma. Candice serves as a Blue Thumb Field Educator and the Project WET Coordinator for the state.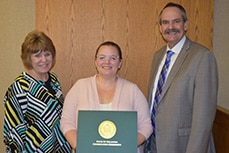 Candice began working in the Bristow office and has been responsible for the Blue Thumb program in north central and southeast Oklahoma, though she works all across the state. In that role she works with communities to provide education equipment and events, Blue Thumb trainings, and support to citizen volunteers including Quality Assurance sessions and biological collections. Candice is fully certified to lead fish collections and benthic macroinvertebrate sub-sampling (bug picking).
In her coordination of Project WET, Candice has been very creative in finding ways to get the information out to more people. For example, during Blue Thumb training all volunteers now become certified to lead Project WET activities and BT is using those volunteers to help at educational events around the state. In addition, she is working to get the program in school districts through in-service training days and through the summer teacher workshop we provide in conjunction with Grand River Dam Authority, OSU Extension, and AG in the Classroom.
When two watersheds were targeted for "watershed education saturation," Candice led the local volunteers on Pennington Creek. There are still several yearly events, including a "regatta," planned by a local committee; now Candice just has to attend and provide some educational activities.
Working with Candice is a joy because she is cheerful and has a wonderful sense of humor. She is able to get complicated concepts explained to others in a way that seems easy and natural. Candice is very organized and thoughtful, keeping track of both the details and the big picture at the same time.
Candice lives in Stillwater and can often be found at flea markets on the weekends. Her significant other loves movies so if you need a recommendation for something good to see, ask Candice!