Service Award: Brooks Tramell, 20 Years
Brooks Tramell, Water Quality Division Monitoring, Assessment and Wetlands Programs director, was recognized for 20 years of service to the state of Oklahoma at the August 3, 2015 meeting of the Oklahoma Conservation Commission.
The recognition presented before the Commissioners reads: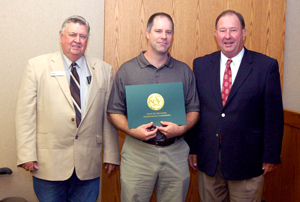 "With a Bachelor's degree in fisheries biology from Northeastern State University, Brooks began his OCC career in 1995 as a water quality specialist, conducting some of the agency's foundational efforts in ambient water quality monitoring. Brooks became the formal monitoring coordinator for the program in 2002, organizing Water Quality Division's statewide sampling efforts and supervising all water quality specialists in the process. Brooks worked out of the Cherokee County Conservation District office until 2008, at which time he relocated to the Water Quality Division office in Oklahoma City. In 2011, Brooks was promoted to a dual role directing not only the Division's Monitoring Program, but also the Wetlands program, where he quickly assumed leadership in coordinating the large and sometimes contentious statewide Wetlands Working Group. To mitigate the impact of Water Quality Division procurement efforts and processing, Brooks volunteered to achieve Certified Procurement Officer Certification and has performed routine purchasing duties for the Water Quality Division since that time.
Brooks is a recognized expert in Oklahoma fish identification, water quality monitoring, bio-assessment, and other areas and is routinely asked to contribute to both state and national technical working groups and efforts. During his tenure, Brooks has had the opportunity to participate in and conduct numerous trainings and programs that have greatly expanded OCC's water program capacity and influence. He's the consummate company man and team player, often carrying more than his weight of responsibility in division and agency affairs. Brooks' critical thinking skills, hard work ethic, and integrity of leadership have been integral to the development of one of the nation's most respected non-point source monitoring programs.
Brooks is one of a few hard core outdoorsmen with more experiences and stories to tell than most would accumulate in a couple life times. Although his heart is in eastern Oklahoma, Brooks lives in Edmond with his wife Cheryl and their five year old girl Jolie. His oldest child, "BK," is pursuing a degree in engineering at Northeastern State."
Here's to 20 more, Brooks!