Service Award: Bob Heidlage, Five Years
Bob Heidlage, OCC Abandoned Mine Land Reclamation Program project inspector, was recognized at the August 2009 Commission meeting for five years of service to the Conservation Commission and the state of Oklahoma.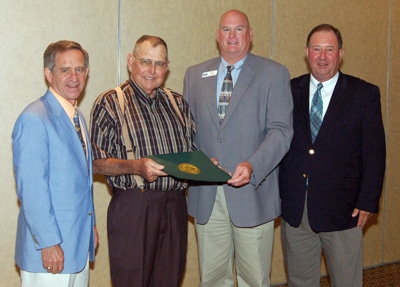 Bob's career in conservation began in 1962 at the Chickasha Watershed Planning office of the USDA Natural Resources Conservation Service (NRCS), then known as the U.S. Soil Conservation Service. After a few assignments in different locations, Bob settled in Claremore in 1965 and became area engineer. The location allowed in northeastern Oklahoma with its concentration of abandoned coal mines him to be involved in the federally-funded Rural Abandoned Mine Program (RAMP). In that work he collaborated with staff in OCC's Abandoned Mine Land Reclamation Program (AML). Upon his retirement from NRCS with 37 years' service in 1999 he was hired by OCC to be an AML project inspector. As a less than full-time job, the years of service accumulate slower than for full-time positions, thus his five year service award took 10 years to earn.
Bob and his wife Pat celebrated their 50th wedding anniversary on Aug. 8, 2009, and have three grown children. Bob also raises thoroughbred horses for racing.