Service Award: Ashley Rhea, Five Years
Ashley Rhea, OCC/Water Quality monitoring specialist, was recognized at the November meeting of the Oklahoma Conservation Commission for five years of service to OCC and the state of Oklahoma.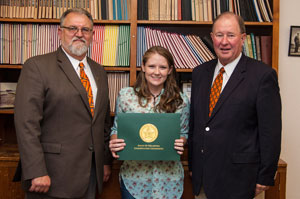 Ashley joined OCC in 2007 shortly after moving to Oklahoma from her home state of Missouri. She worked as a water quality specialist and conservation plan writer in the Illinois/Spavinaw Conservation Reserve Enhancement Program (CREP) projects and was based in Delaware County.  In 2009 she took a water quality specialist position in Cherokee County with full-time monitoring duties and primary responsibilities of operating and maintaining automatic water samplers.
Ashley Rhea earned a B.S. in Wildlife Conservation/Management from Missouri State University in 2005. Among the jobs she held following graduation was a research position in which carbon sequestration was measured in forested, clear-cut and selectively cut areas. 
Ashley and her husband Rodney reside in the Tulsa area with son Braden and daughter Ever.