Service Award: Ann Craven, 15 Years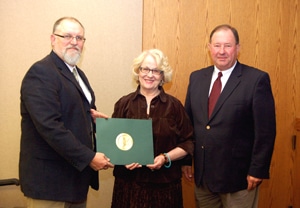 Ann Craven, OCC/Water Quality Program executive secretary, was recognized at the January 2011 meeting of the Conservation Commission for 15 years of service to OCC and the state of Oklahoma. Ann came to OCC in 2006 after years of service at various agencies including the Office of Handicapped Concerns, Office of Personnel Management and the Department of Human Services.
"She is the backbone of the division and helps keep staff who are scattered around the state working and communicating together and with the staff at the main office," said Shanon Phillips. OCC/WQ director. "She performs a number of support tasks that include tracking expenses, leave, request for acquisitions, and time sheets. She also keeps the office running smoothly by maintaining and distributing correspondence and supplies for the eight different water quality locations."
Phillips cited Ann for her forward thinking in anticipating needs in advance for WQ staff from office supplies to travel arrangements and enabling staff members to perform their jobs.
"Most importantly, Ann does a fantastic job of cleaning up and correcting all our little errors on travel claims, leave forms, time sheets, and even RFAs (Requests for Acquisition forms) before they go to (Financial Management/Human Resources division staff) which, in turn, helps the agency function more smoothly and efficiently. She does all this, often thankless work, with a smile on her face and a kind word for everyone she works with," Phillips said.