Senator Darcy Jech: 2021 OACD Conservation Legislator of the Year Award Recipient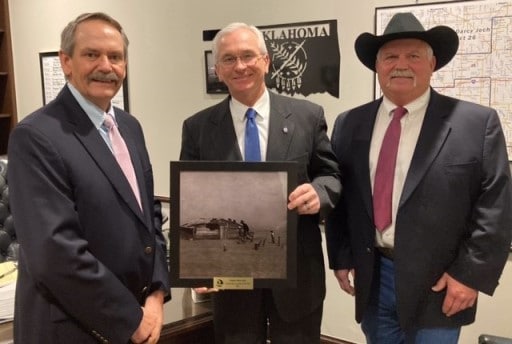 Senator Darcy Jech is this year's recipient of the Oklahoma Association of Conservation Districts "Conservation Legislator of the Year" Award, announced during the OACD State Meeting.
Senator Darcy Jech has demonstrated since 2014 a two-fold commitment in his service – that of district and state.
Jech (Kingfisher), the Senate Chairman for Natural Resources and Regulatory Services, has deep roots in Oklahoma and his family has farmed here since statehood. He continues to partner with a brother in a cow-calf operation on the family farm east of Kingfisher.
Jech represents Senate District 26 in western Oklahoma which has over 400 flood control dams. He has asked the questions and visited the sites to gain a better understanding of how they protect the people, structures and land, not only in District 26, but throughout Oklahoma.
That's why when he addressed the Oklahoma Association of Conservation District's (OACD) 83rd Annual State Meeting, held virtually March 1-2, he spoke of his District and the big picture.
"There are currently over 2,100 flood control dams in the state," Jech said. "Those 2,107 dams represent an infrastructure of over $2 billion. And those structures have an annual economic impact to the state of $91 million. It's the Oklahoma Conservation Commission working along with the Natural Resources Conservation Service (NRCS) and the Conservation Districts that continue to protect this very valuable investment of the taxpayers of Oklahoma."
"It's the Conservation Commission that offers the technical and financial support to maintain these high hazard dams and protect the safety of our citizens," he said.
Senate District 26 covers some or all of the Custer County, Deer Creek, Blaine County, Kingfisher County, Central North Canadian, North Caddo, South Caddo, West Caddo, Upper Washita and North Fork of Red River Conservation Districts.
Jech added that his goals include communicating to his colleagues, especially those in urban areas, "the very critical function of the Conservation Commission and their duties. I see it as my responsibility also to see to it that proper funding is provided that will enable the Commission to perform their duties."
Before his 2014 election, Jech served as a member of the Kingfisher City Council, Kingfisher Chamber of Commerce Board of Directors, the Kingfisher Hospital Board, the Kingfisher Educational Foundation Board, the Kingfisher Industrial Foundation Board, and Central Oklahoma Red Cross Board. He remains active as an Elder at First Christian Church of Kingfisher and as a member of the Rotary Club.