Senate Committee confirms appointment of Dan Herald to serve on the Oklahoma Conservation Commission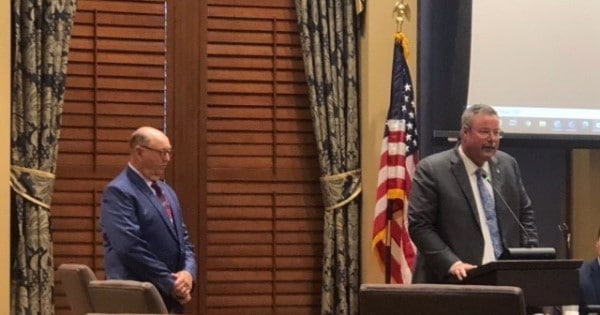 Today, the Oklahoma Senate Agriculture and Wildlife Committee approved the appointment of Dan Herald of Hooker, Okla., in Texas County, to serve as a member of the Oklahoma Conservation Commission for a 5-year term ending June 30, 2026. It will now go to the Senate Floor for confirmation by the full Senate.
Herald will begin serving as the Area I Commissioner at the July Commission meeting.
"The Oklahoma Conservation Commission (OCC) is excited that Governor (J. Kevin) Stitt's nomination of Dan Herald moved through the Senate Agriculture Committee," said Trey Lam, Executive Director of the OCC. "Dan's experience serving the people of Oklahoma through many leadership positions in different agriculture organizations will make him a valuable addition to the Conservation Commission. Not only does Dan have a great deal of knowledge on agriculture issues, but his service on the Texas County Conservation District Board and his involvement in conservation programs and community outreach makes him an excellent fit to serve on the Conservation Commission. I look forward to working with Dan to conserve, protect and restore Oklahoma's soil and water."
The conservation districts in Oklahoma are grouped into five areas in the state. Each area is represented by a Conservation Commission board member. Herald will represent Area I. The conservation districts in that area include: Alfalfa County; Beaver County; Blaine County; Central North Canadian River; Cimarron County; Dewey County; East Canadian County; Ellis County; Garfield County; Grant County; Harper County; Kingfisher County; Major County; Texas County; Woods County and Woodward County.
Herald is a lifelong resident of Hooker, Oklahoma. He is the fourth generation of his family to farm on the Oklahoma plains.
In 1967 while attending Hooker High School he received the State Star Farmer of Oklahoma Award and the Governor's trophy in recognition.
Herald attended Oklahoma State University and graduated in 1971 with degrees in Animal Science and Agriculture Economics. He also earned the American Farmer Degree in Kansas City in 1970.
In 2015 on the 80th anniversary of Black Sunday at the state Capitol, Dan and his family watched his father, Ernest Herald give an account of the events that took place on April 14, 1935. Ernest was one of the last six survivors able to tell the story. He was also invited to speak to the House Chamber.
The farm where Herald's father was born will become a centennial farm in 2025, having remained in the family farming operation since 1925.
Dan Herald has farmed dry land wheat and grain sorghum for nearly 50 years. He has held a seat on the Texas County Conservation Board, the Executive Board of Directors for Oklahoma Crop Improvement and the Oklahoma Wheat Growers Association. He has been selected as an Outstanding Director by the Natural Resources Conservation Service and a Premier Seed Producer by the Oklahoma Crop Improvement Association. Herald also serves as an elder of his local congregation. In 2016, he was named the Outstanding Conservation District Director in Oklahoma and was praised for his dedicated work with his local board, the Oklahoma Association of Conservation Districts and the National Association of Conservation Districts.
Herald has been married to his wife, Marva Fast for 51 years. They have a daughter and two sons.
The highlights of their later life include spending time with their children and 8 grandchildren.
PHOTO CAPTION: Today, the Oklahoma Senate Agriculture and Wildlife Committee approved the appointment of Dan Herald of Hooker, Okla., left in photo. Senator Casey Murdock, shown at right in photo, carried the nomination of Herald.