Ron Hilliard "hangs up his hat" as NRCS State Conservationist
After leaving his own personal mark on Texas, South Carolina, Maryland, Wisconsin, Pacific Basin, West Virginia and most recently Oklahoma, Ron Hilliard has decided to hang up his black cowboy hat & NRCS shirt. After a 36-year career,  Jan. 3, 2013, was his final day as a federal employee.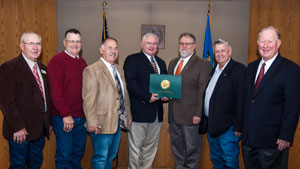 After graduating from Texas Tech University and working in the private sector for a while, Hilliard began his career with the USDA Natural Resources Conservation Service as a range conservationist in Bastrop, Texas, in 1976. He worked as district conservationist, area staff resource specialist, assistant for field operations, assistant state conservationist for programs, operations management coordinator at a regional office, deputy state conservationist, acting director Pacific Basin, state conservationist for West Virginia and completed his career here in Oklahoma as state conservationist.
"I want to thank each and every one, whom I have met, worked with here in Oklahoma and other states across the United States," Hilliard said. "I have had some awesome assignments and have enjoyed each and every one. Good luck to you all," he said.