Robert Toole Service Award 10 Years
Robert W. Toole, OCC Conservation Programs division director, was recognized at the July 2009 Commission meeting for 10 years of service to OCC and the state of Oklahoma.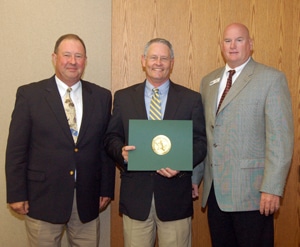 Toole began working as an employee of the Greer County Conservation District employee while still in high school. Later he was employed by the U.S. Soil Conservation Service (today's USDA Natural Resources Conservation Service) and served as the district conservationist at Okeene in the Cimarron Valley Conservation District. While still with SCS he came to work at OCC under an assignment agreement. In 1982 Toole became assistant director of OCC until 1987. He then went to work for the National Association of Conservation Districts as representative for the south central region of the U.S.
Toole rejoined OCC in 2004 in his current position. He led an effort to instigate Incident Command System team training in cooperation with NRCS beginning in 2007. Under his direction Emergency Action Plans were developed for all districts with watershed flood control dams in cooperation with the district boards and NRCS.