Researchers Seek Opinions on Conservation "Certainty"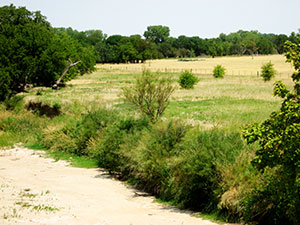 Researchers at Oklahoma State University, in cooperation with the Oklahoma Conservation Commission, Natural Resource Conservation Service, and Oklahoma Department of Agriculture, Food, and Forestry, are conducting a survey to determine if agricultural producers in Oklahoma are interested in participating in a potential agricultural "certainty program".
In a certainty program, agricultural producers would voluntarily enroll into a program where they receive a conservation plan written by the USDA Natural Resources Conservation Service or a similar entity. After the producer implements the recommended conservation practices, they can elect to sign an agreement with state and federal partners in which he or she agrees to maintain the implemented conservation practices for a specified amount of time. In exchange, the producer receives assurance or "certainty" that they will not have to implement any additional practices for the length of the contract if additional state and/or federal regulations are implemented. In other words, such a program would protect agricultural producers from potential future regulations.
Agricultural producers in Oklahoma are encouraged to participate in a brief online survey here.
By completing the survey, researchers say you will be helping state and federal agencies determine if this type of program should be created, and that such a program would be to the benefit of agricultural producers and natural resources of the state.
Participants will be entered to win one of six $50.00 gift cards.