Record funding for conservation and flood control in spite of budget cuts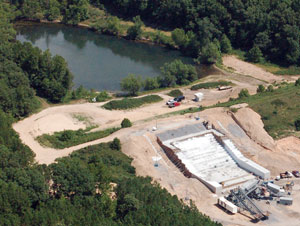 In a time when Oklahoma is faced with an economic downturn that is being compared to the Great Depression, conservationists in Oklahoma are realizing the fruits of years of efforts to position funding for conservation activities. As a result of those efforts, record amounts of funding are going to work in conservation practices that not only protect the state's natural resources and improve water quality but help protect public safety and property.
The Conservation Bond, passed by the Oklahoma Legislature in 2009, appropriated $25 million for conservation work to repair damage caused to the state's conservation infrastructure by the weather events of 2007. Among projects approved for funds from the bond proceeds, along with the Cost-Share Program, is more than $15 million dedicated to repair and operation and maintenance of upstream flood control dams.)
The American Recovery and Reinvestment Act (ARRA) federal stimulus initiative provided over 16 million dollars of new conservation dollars to the OCC and conservation districts for needed work including the rehabilitation and repair of aging upstream flood control dams and construction of much-needed new dams.
Upstream Flood Control Dams — Over 2,000 upstream flood control dams in Oklahoma constitute a $2 billion infrastructure that provides multiple benefits to thousands of citizens. It is estimated that the dams and the established conservation practices in the watersheds provide approximately $75 million in benefits each year. The dams provide flood protection to over two million acres of agricultural land in downstream flood plains and protect 1,532 county and highway bridges. Forty-two of the dams were constructed as multi-purpose structures that provide municipal and rural water supplies or recreation areas for local communities. About 230 dams are classified as high-hazard because of the possibility of loss of life in case of dam failure.
Sallisaw Creek 18M Rehabilitation with ARRA Funds — The Adair County Conservation District, City of Stilwell, USDA Natural Resources Conservation Service and the Oklahoma Conservation Commission broke ground for the first upstream flood control dam in the nation to be rehabilitated using American Recovery and Reinvestment Act stimulus funds. The groundbreaking was held Thursday, Sept. 24, 2009, at the site of the dam Sallisaw Creek site 18M near Stilwell in Adair County, Okla.
Sugar Creek L-43 Rehabilitation with ARRA and Conservation Bond Funds — On Dec. 10 the West Caddo Conservation District, Oklahoma Conservation Commission and USDA Natural Resources Conservation Service (NRCS), broke ground for the first flood control dam repair project funded by the Oklahoma Conservation Bond and federal dollars from the American Recovery and Reinvestment Act (ARRA) federal stimulus plan. The Sugar Creek L-43 dam near Anadarko was severely damaged by Tropical Depression Erin in August 2007. In total $14 million in stimulus funds have been earmarked to the Oklahoma NRCS for flood control rehabilitation and repair.
Turkey Creek No. 3 New Dam — USDA Natural Resources Conservation Service (NRCS), Garfield County Conservation District, Turkey Creek Conservancy District and the Oklahoma Conservation Commission broke ground west of Enid on Sept. 9, 2009, on the first upstream flood control dam in the U.S.to be built with ARRA federal stimulus fund. The dam will be the first of several new conservation projects throughout Oklahoma and the nation made possible by the passage of the stimulus act. The NRCS in Oklahoma have received nearly $2 million in stimulus funds to build new flood control dams.
By having matching funds available for watershed rehabilitation from the Conservation Bond, Oklahoma was able to secure these federal stimulus funds for needed projects.
Locally-Led Conservation Cost-Share Program — The amount allocated by the Legislature for Program Year 12 of the Locally-Led Conservation Cost-Share Program, $948,391, is being combined with $443,809 of unobligated funds from previous years along with $2.6million from the Conservation Bond. The total of almost $4 million ($3,992,200) is the most funding ever available for Locally-Led Conservation Cost-Share in the history of the program.
Federal Farm Bill Programs — The USDA Natural Resources Conservation Service (NRCS) reported they had delivered in 2009 a record number of federal conservation dollars in the state, over 81 million dollars, through federal conservation programs they administer.
Additional Federal Money — Four million dollars in ARRA stimulus funds from the U.S. Environmental Protection Agency have been received by the Oklahoma Conservation Commission through the Oklahoma Water Resource's Boards Clean Water State Revolving Fund for water quality (streambank restoration) projects in the Illinois River and Cow Creek Watersheds along with $86,500 for a project on the OU Campus in Norman. Another $100,000 has come to conservation districts in northwest Oklahoma from the U.S. Fish and Wildlife Service for work on controlled burns. Additionally, $308,000 in stimulus funds from a grant made possible by the U.S. Department of Energy through the state Department of Commerce have also been earmarked for carbon and methane credit work by the Oklahoma Association of Conservation Districts statewide.
Economic Stimulus — Each dollar spent on conservation in local areas can multiply as much as two-and-a-half times as it is spent and rolls over in the local economy.
The Economic Challenge —These positive developments are tempered by the challenges faced by declining state funds to support the day-to-day operations of conservation districts. State agencies, which had seen their budgets cut five percent for each month July through November 2009, saw a 10 percent cut in December and the same in January 2010 with no relief in sight. The threat of employee furloughs and reductions in force challenge the carrying out of conservation efforts that are indispensable to Oklahoma.