Quality Oklahoma Team Day 2011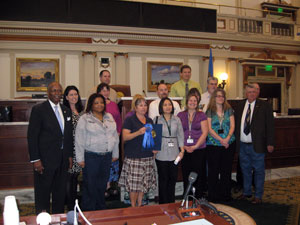 OCC was awarded a blue ribbon for an entry in the Quality Oklahoma Team Day program on May 5, 2011. Entries consist of a written nomination and a display exhibit depicting the program. The OCC team project recognized was titled "Field and Lab Connection: Cross-Training for Better Understanding."
The project came about when personnel in the Oklahoma Conservation Commission (OCC) Water Quality Division and the Oklahoma Department of Agriculture, Food, and Forestry Laboratory Services Division (ODAFF) recognized the need for greater understanding between the OCC staff collecting water samples out in streams and the ODAFF staff analyzing the samples in the lab to produce water quality data. Supervisors of both agencies encouraged personnel to spend a day or two cross-training with the other group in order to increase their understanding of the entire process. As a result, OCC field staff and ODAFF lab staff have greater communication with each other and more fully appreciate the work being done by both agencies in partnership to accomplish the shared goal of accurately assessing Oklahoma's waters.
OCC Water Quality Division personnel involved were Brooks Tramell, Greg Kloxin, Stacey Day, Jerry Carr, Daniel Franke, Jeanette Lamb, Leonard Moore, Jason Ramming, Ashley Rhea, and Wes Shockley. ODAFF Laboratory Services Division personnel involved were Mike Talkington, Brenda Snodgrass, Robert Whitney, Paul Kerr, Tanna Kilpatrick, Nina Patton, Thuy Ta and Yvette Turner.
Two other OCC projects were also entered in the Quality Oklahoma Team Day program, "Oklahoma's Watershed Program" and "Awards and Recognition Committee: Improving Unity, Recognition and Morale."
"Oklahoma's Watershed Program" explained that Oklahoma is a national leader in the Small Watershed Program, protecting the state's people, land, property and infrastructure. Through the program partnership, 2,107 small watershed flood control dams have been constructed throughout the state. These flood control structures have established a $2 billion public infrastructure that provides more than $81 million in benefits annually to the state and our citizens. In addition to the monetary benefits, protection is provided to 1,439 bridges and 21,206 farms and ranches. Forty-two cities receive their municipal water supply from a flood control water impoundment. More than 9.4 million tons of sediment is captured each year and more than 45,000 acres of wetlands is created or enhanced.
Individuals recognized in the "Watershed Program" nomination for their involvement were Joe Parker, president, Oklahoma Association of Conservation Districts, and Christina Richard, president, Oklahoma Association of Conservation District Employees, representing local conservation districts and private landowners; along with Mike Thralls, executive director, Oklahoma Conservation Commission; and Ron Hilliard, state conservationist, USDA Natural Resources Conservation Service.
The "Awards and Recognition Committee: Improving Unity, Recognition and Morale" entry explained that OCC's Awards and Recognition Committee came about as OCC identified a need for greater understanding among its seven divisions and for more public appreciation of its employees. The Awards and Recognition Committee instituted Employee of the Quarter and Employee of the Year Awards, based on nominations submitted by staff. In addition, the committee organizes quarterly full staff meetings which incorporate team-building exercises and provide opportunities for the entire staff to learn about the activities that go on in other divisions. The committee has also organized opportunities for staff to participate in community service each year and has helped increase the State Charitable Campaign contributions. Finally, the Committee was responsible for the creation of the current Oklahoma Conservation Commission logo. All of these activities have resulted in greater unity among the staff and higher employee morale.
Individuals who have been involved in the Awards and Recognition Committee are Jill Ashbrener, Cheryl Cheadle, Ann Craven, Candace Cunningham, Stacey Day, Daniel Franke, Sheryl Gibson, Dianne Ireton, Tashina Kirk, George Moore, Johnny Pelley, Ben Pollard, Karen Potts, Monty Ramming, Ashley Rhea, Brooks Tramell, Kim Tweed, Shellie Willoughby.
The Quality Oklahoma initiative began in April 1992 with a vision to instill excellence in all day-to-day state and government operations and activities and a mission of helping state agencies serve their customers. Each year the Office of Personnel Management hosts Quality Oklahoma Team Day at the state Capitol to recognize successful projects completed by agency work teams. These projects demonstrate employee initiative, collaboration, and accomplishment. Since the first Team Day in 1993, 860 agency work teams have exhibited projects resulting in over $641 million in total savings to the state of Oklahoma.