Prescribed Burn Associations Receive New Radios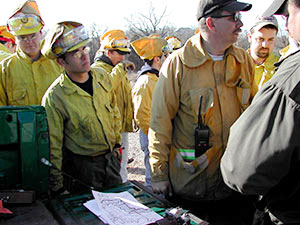 Prescribed burning (burning of the land that has been planned, and is orchestrated by a team of trained prescribed burners) is an incredibly powerful tool to quickly clear large swathes of land of invasive plant species and reduce fuel available for uncontrolled wildfires that can threaten homes and infrastructure. It's literally fighting fire with fire. Powerful as it is, fire can also be dangerous. That's why good communication between the fire boss and crew members is a very important part of conducting a safe and effective prescribed burn.
Loud and Clear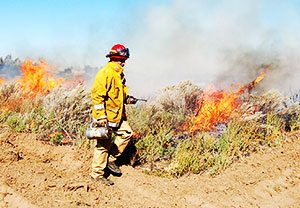 Even though quality, dependable hand-held radios are necessary to conduct safe burns, their prohibitive costs means they aren't always in the inventories of most prescribed burn associations (PBA's) in Oklahoma. To help assist with the problem, the Oklahoma Prescribed Burn Association (OPBA) received a grant through the Oklahoma Conservation Commission (OCC) for $26,000 to purchase equipment for burn associations. After securing a statewide radio frequency through the Federal Communications Commission (FCC), OPBA purchased 64 hand-held radios to distribute to existing PBA's that needed them and to new PBA's that had just formed.
OPBA is currently sending 6 radios to each PBA that requests them. OPBA will get PBA's more radios depending upon requests so each PBA can have adequate communication capabilities while helping to keep Oklahomans safe from wildfire and eliminate out of control species such as red cedar.