Pontotoc Ridge Prescribed Burn Association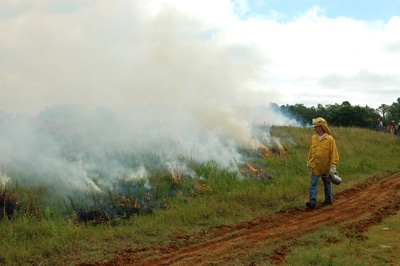 Pontotoc County Conservation District, in cooperation with the USDA Natural Resources Conservation Service and the Nature Conservancy, formed the Pontotoc Ridge Prescribed Burn Association in March 2010 and formally organized in April. Since then the members have been spreading the word and membership is growing.
The group's principal goal is to curb the invasion of eastern redcedar trees in the area. Working cooperatively, with neighbors helping neighbors, the association helps landowners perform prescribed burns on their property. The association works with other agencies to develop prescribed burn plans and conduct the fires.
The group meets monthly on the first Monday at the Coca-Cola Bottling Company conference room in Ada. Landowners from as far as Tulsa and Fort Worth have attended. More information is available by emailing the Pontotoc County Conservation District Office at pontotocccd@conservation.ok.gov.