Pittsburg County Legislators Tour District Sites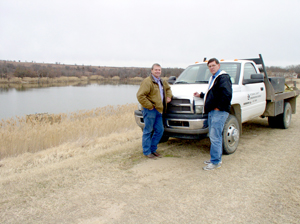 In December 2010 state Sen. Richard Lerblance and Reps. Brian Renegar and Donnie Condit toured Pittsburg County Conservation District small watershed flood control sites with Bradley Hamilton, district manager.
On Dec. 13 Sen. Lerblance rode around the district with Hamilton and toured several of the Brushy Peaceable watershed sites. Later in the week Rep. Renegar and incoming Rep. Condit rode with Hamilton on a tour of the sites.
Rep. Renagar is a veterinarian and owner of an animal hospital in McAlester. The second-term legislator told Hamilton he grew up in the Sallisaw area and that his grandparents had a flood control lake on their property.
Rep. Condit is a retired school teacher and administrator. He served 30 years in the McAlester school system with 11 of those in administration. He told Hamilton that if he had seen flood control dams before, he was unaware of their purpose but that he would be aware of them in the future.
"Pittsburg County has 19 flood control structures and I thought is would be important for the three men to see the impacts that flood control lakes can have in there own district," Hamilton said. "This was a good way to show our legislators the responsibilities that conservation districts have. I encourage any district that can do something like this to do it before the legislative session while the legislators aren't so busy. This is a very important year to educate our legislators on our importance, especially any newcomers to the Capitol," Hamilton said.