Pittsburg County Conservation District — Summer Youth Board Trip 2009
Pittsburg County Conservation District Youth Board took its summer trip the week of July 20, 2009. The goal of the annual excursion is to enlighten and educate the members about natural resources, agriculture, conservation, industry and the environment. And if they have some fun along the way, that's acceptable too!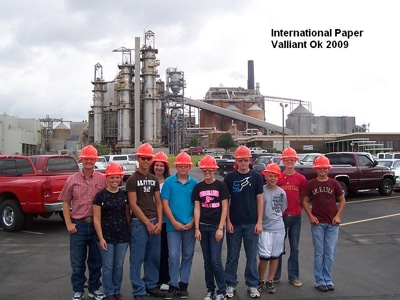 This year the district staff — Bradley Hamilton, district manager, and Jennifer Corum, secretary, took the nine youth board members on a tour of the International Paper plant in Valliant where paper is manufactured for cardboard. Then they toured the Western Farmers Electric Cooperative coal-fired power plant at Hugo. Following that the group went to Arlington, Texas, to watch the Texas Rangers baseball team play the Boston Red Sox. The group spent the night in Arlington, then spent a day at Six Flags over Texas amusement park before returning home to Pittsburg County.
Some of the places the district has taken the youth board before include the Port of Catoosa, Braums Dairy in Tuttle, FAA training center in Oklahoma City, American Airlines maintenance facility in Tulsa, Heartland Cup factory in Allen, Pliant Plastics in McAlester, Tonaska natural gas-fired power plant, Kiowa, and Dolese rock quarry at Hartshorne.
The district also has an annual spring break camping trip when they take the youth board camping and fishing at one of the flood control structures in the county, where they learn how small watershed flood control dams function. In 2005 they participated in a Blue Thumb Curb Marking Project, placing curb markers near 100 storm drains in the city of McAlester. They also participated in a tree planting job for an OCC Abandoned Mine Land reclamation project in 2007 as a way to raise funds for youth board activities, but the group receives its primary funding from the profits from operating a concession stand at the annual Jr. Livestock Show.
Hamilton, said the average number of youth board members each year is 10 students, but currently the group has 13 active members from all over the county. Nine of those were able to go on the summer trip this year, he said. Those members were Marla Ichord, 10th grade Hartshorne High School; Dillon Brewer, 11th grade, McAlester High School; Logan Byrd, 10th grade, Hartshorne High School; Jessica Guinn, 12th grade, Indianola High School; Corey Cantrell, 11th grade, Indianola High School; Justin Morgan, 10th grade, McAlester High School; Tyler Bush, 10th grade, Haileyville High School; and Dillon Camp, 10th grade, Haileyville High School.