Outstanding Conservation District Hosts Conservation Commission
East Woods County Conservation District Hosts Conservation Commission
East Woods County Conservation District hosted the September 2007 meeting of the Oklahoma Conservation Commission in Alva on Sept. 5. EWCCD was named Outstanding Conservation District for 2007 in the OACD Conservation Awards sponsored by Chesapeake Energy and the Oklahoma Association of Conservation Districts. At the meeting, Chesapeake and OACD presented the district with a new sign commemorating the district's achievement.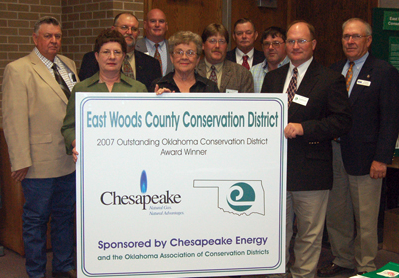 During Conservation Day at the Capitol on March 19 the district had been honored for carrying out a wide variety of activities to promote and support conservation of natural resources. EWCCD activities included education opportunities for students and sponsoring trees for Washington School and bird feeders for Longfellow School. Both schools are in Alva. The district makes conservation-related implements available to farmers and cosponsors the Northwest Oklahoma Land Judging Contest for area 4-H and FFA members.
Tracie Leeper, named as Outstanding Educator for Congressional District III in the Chesapeake/OACD Conservation Educator Awards, also attended the September Commission meeting. Leeper was nominated by EWCCD and also honored during Conservation Day at the Capitol. Leeper is the principal at Washington Early Childhood Center in Alva, which serves Pre-K through second grade students. The faculty and staff at the center begin the pupils' education with lessons about respecting themselves and their health and extending that to respecting the natural world around them. Several projects have been implemented at the center to encourage students to spend more time outdoors where they become more conscious of the value of natural resources and the importance of helping to conserve them.
After the meeting, state Rep. Jeff Hickman paid a visit to congratulate the district on its achievement. During the Conservation Day at the Capitol event, Rep. Hickman had presented EWCCD with a formal Legislative Citation.