Osage Nation Watershed Forum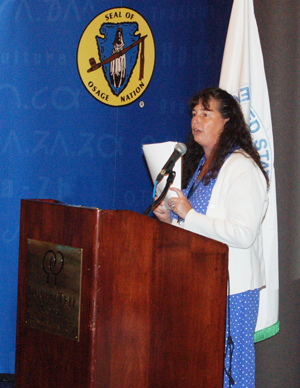 The Osage Nation, with support from the U.S. Environmental Protection Agency, held the Osage Nation Watershed Forum Finding Common Ground: Building Partnerships to Better Manage our Water Resources at the Doubletree Hotel at Warren Place in Tulsa Aug. 24-26, 2010. The purpose of the forum was to bring together all of the players needed to build a foundation to promote future partnerships in cooperative watershed management across multi-jurisdictional areas. The goal was to use the forum to identify solutions to better manage tribal water resources.
OCC Water Quality staff Cheryl Cheadle, Stacey Day and Greg Kloxin participated in the forum's planning team and facilitated breakout sessions.
Shanon Phillips, OCC/WQ director, gave a presentation titled Watershed Plan Implementation in Oklahoma: Experience and Lessons Learned. In the presentation, she described the nine components of an effective watershed implementation plan and pointed out that they are living, changing documents. "Acknowledge what you don't know or can't measure," she said. Trumpeting successes is vital she said because others will surely point out your failures. "Oklahoma is No. 1 in phosphorus reduction and No. 3 in nitrogen reduction in the nation," she said, according to a 2009 EPA report. "Only two states have more nonpoint source success stories than Oklahoma, according to the EPA website," she said.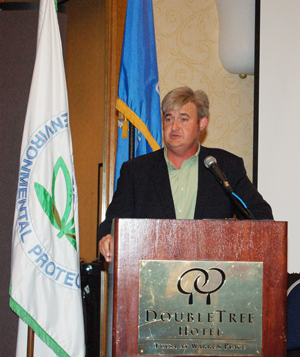 Clay Pope, executive director of the Oklahoma Association of Conservation Districts, spoke on Working Together to Cooperatively Address Water Quality Issues. "There is more than $37 million dedicated to improving water quality in Oklahoma currently," Pope said. "That sounds like a lot until you consider that more than 300 streams in Oklahoma are listed as impaired by the EPA," he said.
In examples of partnerships to improve water quality Pope described the city of Tulsa putting up $2 million to help OCC and conservation districts in working with landowners to help improve water quality in the Eucha/Beatty Creek watershed. The watershed drains into Grand Lake, one source of water for Tulsa. He also stated that more than 20,000 acres of cropland had been converted to no-till farming to help improve water quality in the North Canadian River watershed in western Oklahoma.