Oklahoma's "Lessons from the Dust Bowl" Project Wins Emmy Award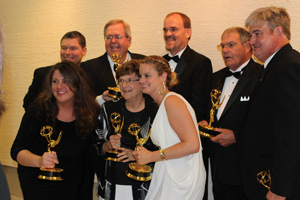 OETA along with the Oklahoma Conservation Partnership won an Emmy for the project "Lessons from the Dust Bowl." The award in the Community Service Category was announced at the 27th Annual Heartland Regional Emmy Awards Program held at the University of Central Oklahoma's Student Union Ballroom on July 13, 2013. The Heartland Region is made up of the television industry in the states of Colorado, Kansas, Nebraska and Oklahoma.

The Project held six community screenings of the Ken Burns film THE DUST BOWL across the state in the months leading up to the film's debut on OETA in fall 2012. Each screening was hosted by the Oklahoma Association of Conservation Districts (OACD) and one or more conservation districts. The goal of the screenings was to increase community knowledge and sensitize new generations to the causes and impacts of the Dust Bowl as the state finds itself in another prolonged drought.

The screenings included panel discussions with conservation professionals and Dust Bowl survivors. Several survivors from Oklahoma were featured in the film. More than 3,000 people across Oklahoma attended the screenings.

Ashley Barcum, OETA Director of Communications, served as the Project Producer. The Conservation Partnership was represented by Clay Pope and Sarah Blaney of OACD, Tom Lucas of NRCS and Ben Pollard for the Conservation Commission. Pauline Hodges, Dust Bowl survivor from Beaver County who was part of the film and the conservation panels at the jointly sponsored community events, also attended the awards program.
See also the press release from the OACD.