Oklahoma's Flood Control Dams: Reducing fear from flooding
Oftentimes the most important words after a disaster are those you didn't have to use such as death/injuries, starting over, rebuilding, and others.
That's where the protection of Oklahoma's network of 2,107 flood control dams and voluntary conservation practices once again shined. The presence of 50 such dams prevented an estimated $2 million in flood damages just from the May 4-6 storms according to the USDA Natural Resources Conservation Service (NRCS) State Office.
Chris Stoner, Oklahoma NRCS State Conservation Engineer said, "Some areas got hit very hard and field crews were hampered in inspecting some of the dams by high water and washed-out roads. However, the reports to date show very little damage to the dams or spillways."
"Dam Safety Awareness Day" is recognized on May 31 annually in memory of the 2,220 people who lost their lives in the 1889 South Fork Dam failure near Johnstown, Pennsylvania. However, Oklahomans have a year-round respect for the upstream flood control dams.
Trey Lam, Executive Director of the Oklahoma Conservation Commission (OCC), said, "Sudden intense rainfall events hit Oklahoma every year. For over six decades Small Flood Control dams have successfully held back flood waters, preventing loss of property and lives."
Lam stressed that, "Conservation Districts and USDA/NRCS partners are the front line in keeping these dams working correctly. The Oklahoma Conservation Commission remains dedicated to extending the benefits of the flood control dams for decades to come."
This May, some of the hardest working dam clusters received over 8.5 inches of rain during this three-day period, according to the Oklahoma Mesonet weather network:
Cane Creek in Okmulgee and Muskogee counties had 21 dams that prevented $908,000 in infrastructure damage.
Okfuskee Tribs Watershed in Okfuskee and Okmulgee counties included 29 dams that prevented $1,038,000 in infrastructure damage.
Some local landowners in the area reported more than 14" in that three-day span.
The 2,107 flood control dams constructed by local conservation districts with the assistance of the USDA Natural Resources Conservation Service, provided almost $6 million in benefits during this 3-day period. These benefits were the damage to crops, roads, bridges, houses and other property that would have occurred had the dams and associated conservation practices not been constructed.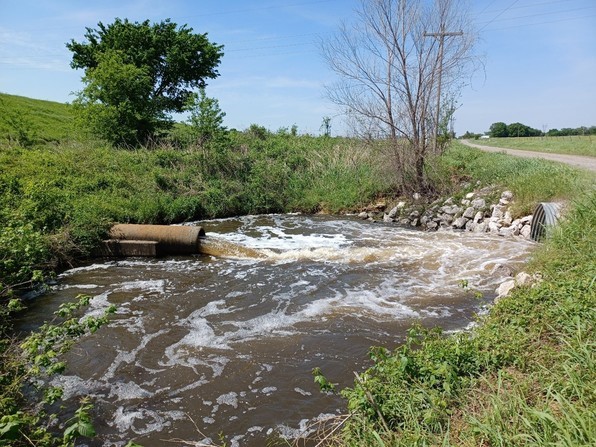 Forty-six DamWatch alerts were issued during this span indicating impending auxiliary spillway flows. DamWatch is an excellent web-based tool to obtain real-time rainfall data and provided a means for communicating real time information on specific dams to those responsible for the dams.
NRCS and conservation district staffs were in the field reviewing the performance of the dams and identifying potential issues during and soon after the storms.
Reports verified that 44 auxiliary spillways had flowed and six dams actually overtopped during this storm event. Interestingly, Stoner noted, "For all but two of the sites, this was the first time they ever flowed through their auxiliary spillways."
Several NRCS and OCC personnel as well as Conservation District personnel gathered information and/or contributed to the reports regarding these storms.
Stoner said, "The dams continue to perform and protect the lives and property of Oklahomans. The fact that six dams overtopped, speaks to the severity of these storms, but also to the resilience of our flood control infrastructure. Maintenance on these dams performed by the local conservation districts and the Oklahoma Conservation Commission is a key factor in the lack of damage as most of these dams saw more runoff than they had since they were built in the 1960s and 70s. This also points to the continued need to stay diligent in these duties. I have heard many times 'Why is that dam so tall; the water will never get that high.' It can and it did."
The storms also highlighted the critical need for operation and maintenance of the dams. OCC Conservation Programs Division Director Tammy Sawatzky said, "Like any form of infrastructure, operation and maintenance of these dams is critical if we hope to continue realizing the benefits they provide."
Maintenance in some cases, may mean avoiding certain uses along the dams. "That could include cattle or ATV trails and roads cutting down the top of the dam elevation," Stoner said. "If a trail lowered the dam elevation by a foot and the dam overtopped, the trail would concentrate flow at this location and potentially be disastrous."
The immense support these flood control dams have received from elected officials has been, is and will continue to be critical.
OCC Executive Director Lam said, "Oklahoma legislators have stepped up to provide significant funding through appropriations and bond proceeds for repair and maintenance on flood control dams. From Okmulgee to Elk City our citizens benefit every day from current and past policy makers prioritizing flood prevention. As we potentially enter a summer drought, flood control structures provide critical water resources. Plus, history has repeatedly demonstrated that Oklahoma droughts only end in devastating floods."
For excellent information about the National Watershed Coalition, please go to https://watershedcoalition.org/fact-sheets/
For additional resources on safety, please see https://damsafety.org/media/statistics
And you can learn more about "National Dam Safety Awareness Day" at https://www.fema.gov/emergency-managers/risk-management/dam-safety/awareness-day