Oklahoma Today features Conservation and Conservationists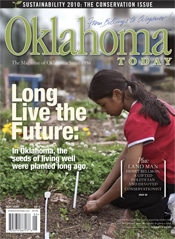 The May/June 2010 issue of the Oklahoma Today magazine, "Sustainability: The Conservation Issue," features conservation issues and interviews with OCC's Mike Thralls and Shanon Phillips and OACD's Clay Pope.
"The Land We Belong To" — A historic reminder of the Dust Bowl and the ever-present efforts that keep our landscape green, featuring Shanon Phillips, OCC/WQ director, and Clay Pope, OACD executive director.
"Land Men" — A recollection of Henry Bellmon, farmer, conservationist and statesman, featuring Mike Thralls, OCC executive director.
The May/June 2010 issue of Oklahoma Today magazine is on sale at newsstands or can be purchased online at http://oklahomatoday.com.