Oklahoma State Envirothon 2010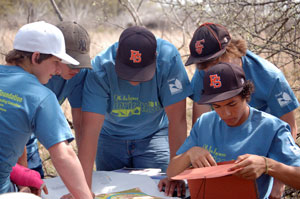 The Oklahoma Envirothon was held in Oklahoma City on April 6, 2010. The Oklahoma Envirothon is part of a national program for high school students designed to educate and challenge young people in areas of environmental sciences such as forestry, wildlife management, water quality, and soil erosion. Combining in-class curriculum with hands-on field experiences, Envirothon demonstrates the role people have in important environmental issues.
Oklahoma's conservation districts support the Oklahoma Envirothon by sponsoring teams and providing volunteers to assist as Walking Leaders and with other duties at the contest.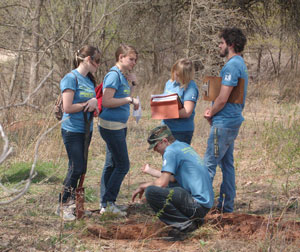 Six five-member teams competed at Lake Arcadia with headquarters at the new Lake Arcadia Conservation Education Center. The day started off overcast but the sun broke through before noon and the temperature rose into the 80s. The wind from the south at about 20 miles per hour with gusts to 30 mph never abated all day. Karla Beatty,OCC Conservation Programs education coordinator, coordinated the event hosted by Oklahoma County Conservation District. In addition to nine conservation district employees, personnel from the USDA Natural Resources Conservation Service, Oklahoma Department of Wildlife Conservation and Oklahoma Department of Agriculture, Food and Forestry assisted with the contest.
The six teams were Lawton FFA, Watts FFA, Ft. Supply FFA, Tulsa Memorial High School, Owasso High School and Ninekah High School. First place awards were presented for the topics of Wildlife, Aquatic Ecology, Soils and Land Use, Forestry and this year's Special Topic, Groundwater Protection. An award is also presented for best Oral Presentation.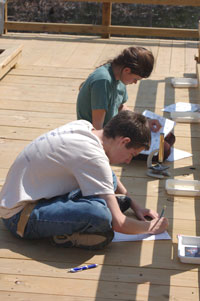 The Ninekah High School team scored the best overall and will go to compete nationally at the Canon Envirothon in Fresno, Calif., in August 2010. Ninekah scored best in the Forestry and Special Topic categories as well as for the Oral Presentation. Lawton FFA topped the Wildlife, Aquatic Ecology and Soils categories resulting in being named Best FFA Team for the competition. The Lawton team will be recognized at the State FFA Convention for achievement in Environmental and Natural Resources Science and will be eligible to compete in that category at the FFA national level.
The first national Envirothon was held in 1998. The first state competition in Oklahoma took place in 1999 and a team from Edmond Memorial High School represented the state at the Canon Envirothon that year.