Oklahoma Leads the Region in Nonpoint Water Quality Success Stories
EPA Announces Most Successful Year in History for Nonpoint Source Water Quality Program
Dov Weitman, chief of the Nonpoint Source Control Branch of the U.S. Environmental Protection Agency (EPA) in Washington, D.C., announced that 2010 was the most successful year in the history of the nonpoint source (NPS) program.  This program, more officially known as Section 319 of the Clean Water Act, provides funding to states to address nonpoint source water pollution issues. Nonpoint source pollution occurs when substances such as fertilizer, animal wastes, oil, and other pollutants run off the land into streams, rivers and lakes during rainfall events.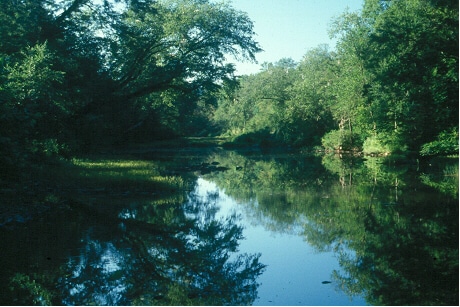 The Oklahoma Conservation Commission (OCC) serves as the lead technical agency for the nonpoint source program in Oklahoma. Working in collaboration with the state's local conservation districts and other agencies, OCC's Water Quality Division, led by Shanon Phillips, has been helping landowners install practices on their land to reduce the impact of nonpoint source pollution for over two decades. These practices include, among others, installing fencing to reduce livestock impacts to streams, converting from conventional tillage to no-till to reduce soil erosion, and upgrading septic systems to prevent leaking sewage from polluting nearby waters. Practices are installed on a cost-share basis, with the landowner contributing a certain percentage of the cost, and state and federal funds paying the rest.
Education is another component of the nonpoint source program in Oklahoma. OCC's Blue Thumb Program provides outreach, teaching students and other citizens how to reduce pollution locally and by facilitating volunteers in monitoring their local streams.

In terms of documenting improvement in streams, Oklahoma is leading the way in EPA's Region 6, which consists of Oklahoma, Texas, Arkansas, New Mexico, and Louisiana. With nine success stories posted on the EPA website and an additional ten stories pending, Oklahoma is among the best performing states in the nation and helped the region exceed its yearly goal for documented water quality improvement.
Oklahoma Secretary of Environment J.D. Strong applauded the success of Oklahoma's program. "I am extremely proud of the high quality work done by the Conservation Commission and local conservation districts," he said. "They continue to lead the nation in implementing the programs that reduce the impact of nonpoint source pollution and improve the quality of waters in our state."
The EPA defines Nonpoint Source Program success as restoring the quality of NPS-impaired water bodies such that they are no longer considered impaired based on rigorous standards determined and set in law by each state. To date in 2010, the EPA has documented success in 68 water bodies, eclipsing previous annual numbers of approximately 50 each in 2008 and 2009. Currently, the total number of success stories published on the EPA website is 200. Once the newest stories are posted later this year, Oklahoma will account for nearly 10 percent of the successes in the nation. Go to http://www.epa.gov/nps/success to see what Oklahoma and other state nonpoint source management programs have achieved.