Oklahoma-Grown Seedlings Available Online
Tree seedlings to improve wildlife habitat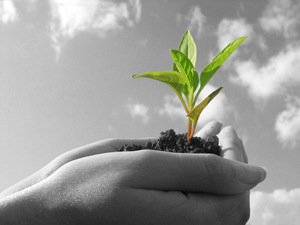 All landowners can do something for wildlife, even if it just means planting some trees. And they can start by ordering tree seedlings from the Oklahoma Department of Agriculture, Food and Forestry.
In partnership with the Oklahoma Department of Wildlife Conservation, Oklahoma Forestry Services is offering three different packages of seedlings, called wildlife habitat improvement packages, that will enhance the habitat of deer, songbirds, turkey, quail and a variety of other wildlife. Each wildlife packet is made up of 25 each of four different species of trees and shrubs were chosen specifically to improve the wildlife habitat of your property.
"Planting the appropriate trees can be a great way to enhance wildlife habitat on your property," said Mike Sams, private lands biologist for the Wildlife Department. "Planting a tree today can be a long-term investment for future generations."

According to foresters, the fall is the best time for preparing planting sites for seedlings, and the best time for planting seedlings spans from December through early April.

Oklahoma-grown seedlings are available to landowners for a broad range of conservation projects. Landowners use the trees for windbreaks to protect crops and livestock, timber production, water quality protection, erosion control or other natural resource projects such as firewood plantings and Christmas tree production.

An online store is available where landowners can purchase their wildlife habitat improvement packages, as well as choose from over 35 species of trees and shrubs. Seedlings are one year old, bare-root, and each species is packaged in multiples of 50 with a minimum order of 100 trees. They are to be used in rural conservation plantings and cannot be used for ornamental plantings or resold as living trees.

All orders will be handled on a first-come, first-served basis, so landowners are encouraged to visit www.forestry.ok.gov today to choose their tree seedlings for planting this winter. The seedlings will be available for pickup or shipment starting in early January 2011, but orders are being taken now via the online store or you can request a paper order form by contacting the Department's Forest Regeneration Center at 800-517-FOREST.