Oklahoma flood control dams working hard and "doing their job" through extreme weather
When you work around someone, or in this case some thing, daily, you know how it will fare even in extreme circumstances.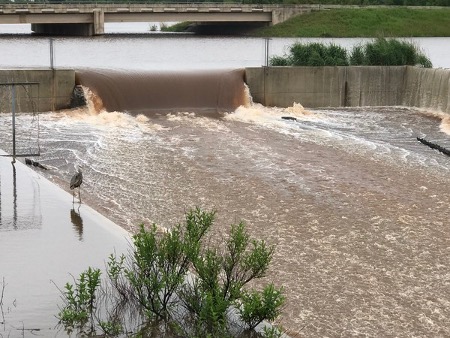 That's why there was a tone of pride in the voice of Anita Kaufman, Director of the Payne County Conservation District, as she visited 20 flood control dams both on Stillwater Creek and on Long Branch Creek starting early Tuesday.
Overall, the state has 2,107 such flood control dams protecting homes, businesses, roads, bridges, and other infrastructure, as well as crops, farmland, and ranch land. The "however" to this is that by the end of this year, almost two-thirds of these dams (1,380) will have passed their 50-year design life.
The reality is they can't retire, they just need some remediation.
"Doing their job"
"I will say this for our flood structures, being as old as they are, every one of them is doing their job," Kaufman said. "I have seven of them flowing through their auxiliary spillway. They are doing a great job in and around Stillwater and Payne County. I've seen structures at full capacity, but still doing what they are designed to do. I cannot imagine the additional flooding that would have occurred around Stillwater without them."
A Natural Resources Conservation Service (NRCS) 'National Watershed Benefits' computer model estimates the daily monetary benefits resulting from watershed projects for a specific storm. These benefits are essentially the damages that would have occurred from that storm had the dams not been built. The report detailed $16.5 million in monetary benefits resulting from the watershed projects in Oklahoma during the 24-hour period from 7 a.m. Monday (May 20) to 7 a.m. Tuesday (May 21).
Larry Caldwell, an Oklahoma Conservation Commission Watershed Specialist and professional engineer, is a nationally-recognized authority on dam safety and rehabilitation of aging dams. He currently provides leadership for a team assisting local conservation districts to evaluate aging flood control dams and to develop related emergency action plans and rehabilitation designs to meet current safety standards.
"For as much flooding as there was around Stillwater, it could have been much worse," Caldwell said. "The 34 flood control dams in Payne County did their jobs and significantly reduced the depth and extent of flooding on many of the tributaries within Stillwater Creek and Long Branch Watersheds."
Meeting the challenges together
This weather event was not only an example of watershed dams meeting the challenges in the areas they protect, it was also an example of those in conservation continuing on through the severe weather circumstances to serve the people of Oklahoma.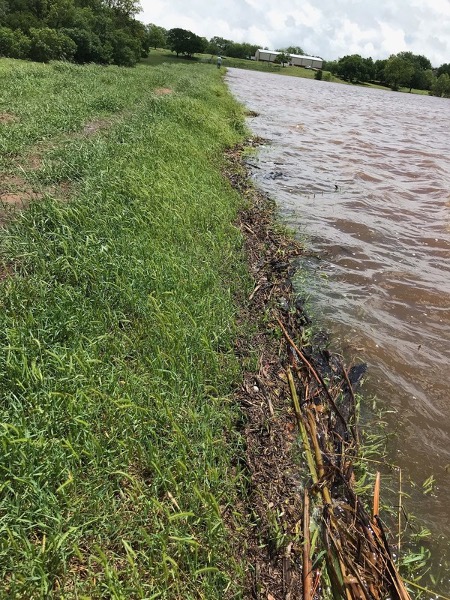 Shirley Hudson works for the Ottawa County Conservation District, but lives in rural southwest Craig County.
On Tuesday, with the rains having fallen unmercifully for hours upon hours, she wasn't expecting a normal day. Reality held up its end as she started down a road she usually travels to get to the highway en route to work.
Hudson had gone about a mile and a quarter from her house when she saw the man standing beside the pickup.
"He told me the tinhorn had washed out and I couldn't go that way," she said of the two gaping holes that left only a thin slab in the middle of the road.
After getting a look at the damage, she started toward her typical second option. The barriers blocking the road let her know it was not an option this time.
"A wood bridge had washed up and they had placed cones, so you couldn't go that way," she said. "So I took another way to get to the highway."
Caldwell quickly began analyzing the performance of the watershed dams by gathering information and studying reports.
He said that the 187 dams within Payne, Pawnee, Noble and Garfield Counties prevented about $5.2 million in damages from occurring during that Monday through Tuesday timeframe.
Caldwell said "Many of these dams protect not only cropland, roads, and bridges, but also people's homes that exist downstream from the dams. These dams are important to these local communities and must be maintained to keep them in safe condition."
There are many examples. The damaged prevented in some of the other counties included: $1.7 million in Canadian County, $1.1 million in Lincoln County and $400,000 in Kingfisher County. In looking at one particular watershed, Cottonwood Creek Watershed prevented about $500,000 in damages from occurring.
Wade Warren, Watershed Aid for Noble County Conservation District, also assists in Pawnee and Garfield Counties. He did a lot of driving, inspecting about 50 watershed dams. He also found the dams functioning as designed and protecting areas in the Black Bear and Red Rock Watersheds.
Warren said the difference in this event from most others was the size of area receiving significant rains.
"This one in this area is more widespread," he said. "Usually it's more localized type flooding. You'll have 10 to 15 dams involved, but this one I'd say basically the full Red Rock and Black Bear watersheds got hit this time, along with Stillwater Creek and Long Branch."
Warren was asked for a specific sample of a watershed dam that impressed him in this weather event.
He said it would be Dam No. 52 in the Upper Red Rock Watershed, south of Billings, built in 2007.
"It's holding the water back and protecting I-35," he said.
Rusty Peterson works with the Natural Resources Conservation Service and is based out of Perry.
After sharing what he'd seen through the day, Peterson paused and then echoed the pride in the flood control dams shared by other conservation specialists such as Kaufman and Warren.
"It rained continuously and that's what put them in the shape they're in," he said, "but they're doing their job slowing down the water and letting it out at a controlled pace."