Oklahoma Farmers Royalty and OACD to Partner on State Conservation Youth Awards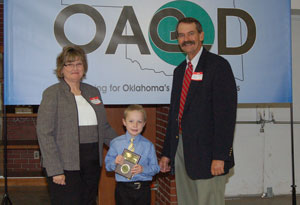 The Oklahoma Farmers Royalty Cooperative (OFRC) and the Oklahoma Association of Conservation Districts (OACD) have announced that they will join together in presenting the Oklahoma Farmers Royalty Conservation Youth Awards. These awards will go to the winners of the OACD poster, essay and speech contests at the district and state level. Last year over 1,000 students from throughout Oklahoma participated in these contests, coordinated by the Oklahoma Association of Conservation District Employees (OACDE).
"We are honored to have Oklahoma Farmers Royalty as a partner in recognizing the outstanding achievements of our states youth," Joe Parker, President of OACD said. "These students work hard in preparing their speeches, posters and essays. The support of Oklahoma Farmers Royalty Cooperative gives us a chance to better recognize their achievements."
Open to students from all areas of Oklahoma, the OFRC/OACD Youth Conservation Contests include categories for both high school and grade school students. These contestants research the conservation topic chosen each year and then write essays, develop speeches or create posters to expand on the conservation theme for that year.
OFRC was formed in 1929 to pool mineral interests of share holders and manage those assets for the benefit of all shareholders. The organization also engages in endeavors designed to benefit the community or promote the conservation of natural resources.
"It is a great pleasure for Farmers Royalty Company to partner with OACD to promote Education of Conservation of our natural resources with the youth of our state," Hal Clark, chairman of the OFRC board of directors and also a board member of the Cimarron County Conservation District said. "I am also excited to honor the legacy of Vernon McNally with this partnership. Vernon was a great conservationist and also a promoter of education for our youth." McNally, a board member of the East Woods County Conservation District from 1949 until his death in 2002, served as chairman of the Oklahoma Farmers Royalty Company for 16 years. Lee Roy Hudson, Harmon County Conservation District board member is also a current OFRC board member, and Mason Mungle, former executive director of the Oklahoma Conservation Commission, is the OFRC president.
"This is a great partnership, Farmers Royalty Cooperative and OACD," Clay Pope, OACD executive director said. "By sponsoring these awards, Oklahoma Farmers Royalty Cooperative is helping us recognize the youth of our state and encouraging our students to have a better appreciation for our natural resources. Oklahoma Farmers Royalty is truly committed to helping the next generation of Oklahomans conserve and protect our soil, water, air and wildlife habitats."