Oklahoma Farmer and Rancher CARE Champions attend 76th Annual NACD Meeting in Orlando, Florida
Orlando, Florida — Six Oklahoma farmers and ranchers identified as Champions through the Conservation and Agriculture Reach Everyone (CARE) project recently attended the 76th NACD Annual Meeting in Orlando, FL.
In collaboration with the Oklahoma Black Historical Research Project Inc. (OKHBRI) the attendees were: Kwame Mboya, Oklahoma County Conservation District; Rich Auer, Nowata County Conservation District; TJ Love, Wagoner County Conservation District; Washington Jones, Logan County Conservation District/ Oklahoma Black Historical Research Project; Alvin Lee, Seminole County Conservation District/OBHRPI, and Milford Roberts, Seminole County Conservation District/OBHRPI.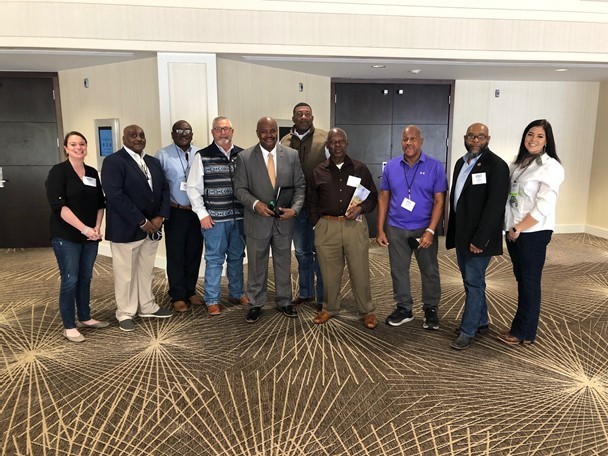 The focus of the 76th annual meeting was "Conservation Defined for All," which was the ideal opportunity to highlight the work being done in Oklahoma by the Oklahoma Association of Conservation Districts (OACD).
On Feb.14, OACD Executive Director, Sarah Blaney, presented on the CARE project and facilitated a discussion between David Stephens, OBHRPI, Major TJ Love, Wagoner County Conservation District, and Grant Victor, Ottawa County Conservation District.
This discussion reinforced the importance of a program such as CARE and its significance to agricultural producers in Oklahoma. Sarah Blaney shared with district directors and association Executive Directors from across the country in attendance how they too might replicate a similar program in their state.
The CARE project is a collaborative project between OACD and the OBHRPI with the goal of increasing participation in USDA programs among veterans, minority farmers and ranchers.
This project also focuses on providing hands on training opportunities concerning conservation and agriculture practices and encouraging CARE Champions to pursue leadership opportunities at the local, state, and national levels.
A highlight of the trip was when participants got to hear remarks from NRCS Chief Terry Crosby regarding his commitment to the equitable application of Conservation to all across the United State and addressing challenges still be faced due to the pandemic. The Chief took time out of his schedule to visit with the Champions and grab a quick photograph. For more information, visit www.okconservation.org.