Oklahoma eCycles Day
"Electronic devices can live forever."
Submitted by Carol Crouch, NRCS District Conservationist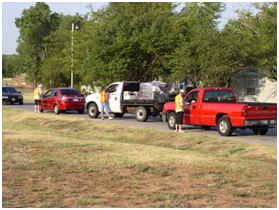 Cleveland County Conservation District cosponsored an e-waste recycling event recently and three other conservation districts pitched in to help. There was no cost to drop off electronic devices from 7:30 a.m. to noon at the "Oklahoma eCycles Day" held at Marc Heitz Chevrolet in Norman on July 30. Desktop and laptop computers, monitors, fax machines, printers, televisions, clocks, stereos and cell phones were all accepted. 
The items accepted will be recycled through a partnership between Marc Heitz Chevrolet, Keep America Beautiful, Keep Oklahoma Beautiful, LG Electronics, Waste Management, Cleveland County Conservation District and the City of Norman. According to a spokesperson from the car dealership, people in 377 vehicles dropped off electronic items during the event. Chris Ward, Cleveland County Conservation District secretary, said more than 2,000 pounds of electronics were collected.
In addition to Ward, Patti Christian, McClain County Conservation District Secretary; Becky Inmon, Oklahoma County Conservation District secretary; and Amanda Boatwright Burch, Pushmataha County Conservation District secretary; also volunteered to help at the event.
"In addition to assisting farmers and ranchers, conservation districts in settings like Cleveland County Conservation District get involved a variety of activities to also serve the urban community regarding natural resource conservation," Ward said.