Oklahoma Conservation Partnership Honors Bill Wilson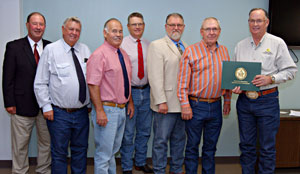 Members of Oklahoma's Conservation Partnership honored Bill Wilson Aug. 13, 2012, for his service and leadership to the cause of conservation at local, state and national levels. In June Wilson retired from the Haskell County Conservation District board of directors after 32 years of service.
Some of the highlights of Wilson's conservation commitment and leadership include:
Haskell County Conservation District:  Served on the board of directors from March 3, 1980, to June 30, 2012.
Oklahoma Association of Conservation Districts (OACD): Served as Area V director, vice president and president.
National Association of Conservation Districts (NACD): Served as board member, 1st and 2nd vice presidents and president.
National Watershed Coalition: Served as founding member of the steering committee and chairman.
Awards and recognition Wilson has received have included:
Oklahoma's Outstanding Conservation District Director in 1989
Oklahoma Wildlife Federation's Conservationist of the Year in 1993
Oklahoma Water Pioneer in 1995
Progressive Farmer magazine's Man of the Year in Oklahoma in 1995
Soil and Water Conservation Society's Honor Award in 1995
Oklahoma Conservation Hall of Fame in 2001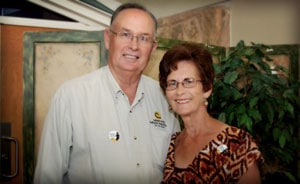 At the monthly meeting of the Oklahoma Conservation Commission during the morning of Aug. 13, Wilson accepted a Conservation Commendation from OCC. The Commendation stated: "For your legacy of conservation leadership, consistent with the Oklahoma conservation leaders who have gone before. You have made your mark as an Oklahoma Conservationist, serving faithfully on the Haskell County Conservation District Board, as President of OACD and NACD and as Chairman of the National Watershed Coalition."
Following the Commission meeting, a luncheon was held in Wilson's honor. Representatives from conservation organizations made statements praising Wilson's leadership and accomplishments. Speakers included representatives from the Oklahoma Conservation Commission, Oklahoma Association of Conservation Districts, National Association of Conservation Districts, USDA Natural Resources Conservation Service, and the National Watershed Coalition.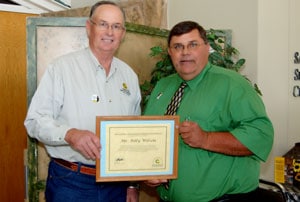 All members of the Oklahoma Conservation Commission — Karl Jett, Mike Rooker, George Stunkard, Dan Lowrance and Jim Grego — attended. In addition Mike Thralls, executive director, Ben Pollard, assistant director, and other members of OCC staff attended. Ron Hilliard, NRCS state conservationist, attended with members of his staff. Former Conservation Commission members Virginia Kidd and Sandra Drummond attended the luncheon as did Mason Mungle, former OCC executive director, and Ron Clark, former NRCS state conservationist. Rick Jeans, Kay County Conservation District director, NACD board member and former Conservation Commission member and president of OACD, represented NACD at the luncheon.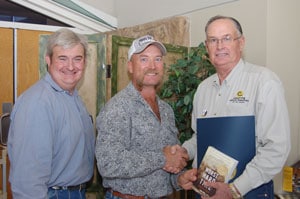 Wilson thanked his wife Carolyn and family for their support through the years and praised the strength of the Conservation Partnership in Oklahoma as setting the standard for other states.
The Haskell County Conservation District had previously held a retirement dinner in Wilson's honor on June 28 in Stigler.