OKC Students Write, Illustrate Book on Protecting Water
Three students were looking for a project to help them earn a Girl Scout community service award as members of Moore Girl Scout Troop 456. What Ariel and Ava McAffrey, and Katie Prior ended up earning was something much more than a badge, they earned a Blue Thumb and so did Bob.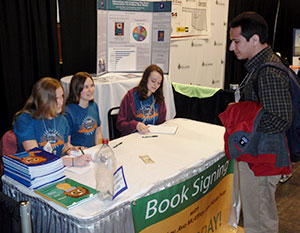 Blue Thumb is the water quality education program of the Oklahoma Conservation Commission's Water Quality division. Its purpose is to provide education and outreach on nonpoint source pollution and support volunteers who perform monthly water quality monitoring. The McAffreys and Prior learned about Blue Thumb through a flyer and thought it would be a great fit for them. After completing training in 2013 the trio, along with their mothers began monthly chemical monitoring on Crutcho Creek. The girls check the dissolved oxygen levels, chloride, pH, phosphorous, nitrates, ammonia, temperature, and assess the stream for changes to habitat.
Citizen Scientists
"It has been a lot of fun to see the girls' interest grow, and it gives them first-hand experience in applying science, which enhances their education," said Karen Prior, Katie's mother.
Their experience at the creek has not only enhanced their science knowledge but has given them a new appreciation for the creek site they monitor. They pick up trash every month they monitor and have come to think of Crutcho Creek as "their creek." Gaining this new appreciation for the creek inspired them to help others become aware of the impact everyone has on streams and rivers. The trio had recently written a book called "Bob has an Idea" about the three Rs, Reduce, Reuse and Recycle for a Girl Scout Silver Award project and thought Bob could help people learn about water pollution and the impact it has on the creatures that live in and near the water. So "Bob has a Blue Thumb" was created.
The trio wrote and illustrated the book, which features a hedgehog named Bob as the central character. Bob lives near a stream that is getting polluted by the City People who are dumping trash and other contaminants in the storm drain that leads to Bob's stream. Bob goes into Town to tell the City People what they are doing to the stream and they end up working together to help clean it up, and that's how Bob earned his Blue Thumb.
Funny Mascot
One might wonder how a hedgehog came to live next to a stream, since they aren't native to Oklahoma, but the McAffreys had a pet hedgehog, so they decided to make it their mascot and ultimately the main character in their Bob books. And it just so happens that the girls all have a grandfather named Bob. The trio wouldn't comment on if Bob was named after them, but the granddads think he is. Another family member makes an appearance as well, Mayor James, is named after the McAffreys' younger brother, who they hope will take over their monitoring duties once they graduate.
The Blue Thumb staff was very excited to see the girls take what they have learned and turned it into something that can be used as a fun, educational tool for other kids. It has also been great to see how they have taken a proactive attitude on water quality.
"They are great to work with. They don't ever ask what more can we do, they just do it," said Kim Shaw, Blue Thumb Quality Assurance Officer.
"That's what we want people to do, go out and take their experiences and what they have learned and share it with others," said Cheryl Cheadle, Blue Thumb program coordinator. "Getting kids involved in teaching others is one of the things that we love to see. We learn from our peers and when kids teach kids it sometimes just sinks in better."
"One of the most rewarding parts is the influence you have on kids," said the trio. "Don't just teach us, involve us."
Ava said another reward is the benefit to the creek and watching the changes over time. While they continue to pick up lots of trash, they know their efforts are having a positive impact on the stream. One example of this is the discovery of very high chloride levels in the creek over the past few months. The trio is now learning how you handle a potential pollutant in the stream. They have been working with the city of Oklahoma City, the Oklahoma Department of Environmental Quality and the Oklahoma Corporation Commission to try to discover why the chloride levels are so high. The have found the process very interesting and look forward to discovering the problem and how it will be addressed.
"It has been awesome to see them read about something and then get the first-hand experience in helping solve the problem. It gives them a different view on other things in the world and has helped them see actions do have consequences," said Destiny McAffrey, Arial and Ava's mother.
When asked if their experience with monitoring has changed their minds about what they want to do in the future, Ariel said no it has only solidified her desire to become an environmental engineer.
Mountain of Medals
The Blue Thumb program is funded through the Environmental Protection Agency's Clean Water Act Section 319 funds, which are used to address nonpoint source pollution. The EPA has several awards each year for environmental awareness and the trio was nominated for the Region 6 President's Environmental Youth Award and was awarded 2nd runner up.
"The Bob Has a Blue Thumb book represents the full cycle in environmental protection through the Blue Thumb Program that EPA and OCC have worked so hard to develop. OCC has done a tremendous job in connecting agency goals and state needs with citizens," said Mike Bira, EPA Region 6 Oklahoma Nonpoint Source Program Manager. "Ariel, Ava, and Katie have taken the Blue Thumb principles and delivered them to the community through a very innovative, original, and fun idea. Now Blue Thumb can be understood by kids too young to get in the creek and sample, as well as the parents who are teaching them to read. So many levels of success!"
In addition to the EPA award, Katie was recently recognized for an essay she wrote on volunteering with Blue Thumb, as the Oklahoma State Honoree for the Prudential Spirit of Community Award. She will travel to Washington, D.C. to be recognized at a national award ceremony in May.
The girls sell their books on Amazon and have donated all proceeds from the sale of "Bob has a Blue Thumb" to the Oklahoma Blue Thumb Association, which is a nonprofit established to help support Blue Thumb volunteers.
"We thought the Association was a good cause and want to make sure monitoring and education continues," said the trio.
On April 2, 2014 the girls presented Beth Landon, OBTA secretary a check for over $173 from the sale of the books on Amazon and another $180 from a recent book signing. Bob is now having a statewide impact to water quality as the Association funds various water quality education programs and projects.
Landon said, "Beyond the check, having the girls involved is everything we want in the Association."
For more information on "Bob has a Blue Thumb" and his other adventures visit his Facebook page or his website.