OCC State Charitable Campaign Collects $3,800 plus "Toys for Tots"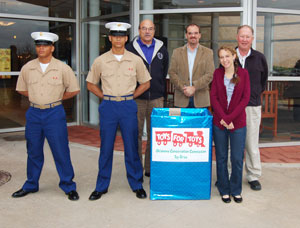 OCC has participated in the State Charitable Campaign for many years and employees have often contributed to various toy donation drives in the past. This year was the first time OCC held its own toy drive.
"Thanks to Santa Claus for attending OCC's December Full Staff Meeting to help kick off our very successful toy drive," said Kim Tweed, OCC's State Charitable Campaign coordinator.
Campaign events included a pie auction that raised $606 and a silent auction that raised $644, along with pledges in the amount of $2,550 for a total of $3,800. In addition, a large box full of brand new toys was collected and presented to members of the U.S. Marine Corps for its "Toys for Tots" campaign.