OCC Mourns the passing of Hal Clark: A Pillar Among Conservationists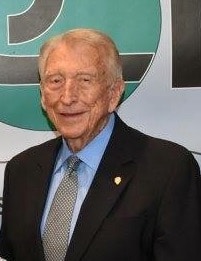 The Panhandle's Hal Clark was indeed "A pillar among conservationists."
The Oklahoma Conservation Commission (OCC) deeply mourns the passing of Clark, who passed away on November 23, 2020, at the age of 88.
For more than half a century, Clark managed the Clark Ranch in far northwestern Cimarron County with conservation as a priority. His pasture and rangeland management included rotational grazing, establishing permanent vegetation and controlling erosion to protect both land and water.
Clark's education in range management coupled with his family's history with the Dust Bowl led him to become a member of the Cimarron County Conservation District board of directors in 1966. Since that time, he dedicated more than 50 years to advancing soil stewardship. He helped develop the High Plains Five States Range Camp on his ranch to teach high school students the value of taking care of the land and hundreds of students from Colorado, Texas, New Mexico, Kansas and Oklahoma have participated.
Hal was Area 1 Commissioner of the Oklahoma Conservation Commission from June 12, 1978 to June 3, 1996. Clark and his fellow commissioners established the Blue Thumb project to provide statewide education on stream water health. He also served on Gov. Keating's Animal Waste and Water Quality Task Force which authorized a cost-share program to help landowners install conservation practices that improved water quality and limited soil erosion. He helped the conservation district secure no-till drills and low-energy precision application nozzles for irrigation systems to change the way farming is done in the Panhandle.
Clark was inducted into the Oklahoma Conservation Hall of Fame in 1997. He received the Agricultural Environmental Steward Award in 2017 from the Oklahoma Department of Agriculture, Food and Forestry.
Ron Hays quoted Clark one time as saying, "Sustainability is a catch word a lot of people are using now, but it's hard to define. When it comes to sustainability, you need to endure but you don't want to take away opportunities from the future generations."
Clark never took anything away, but he sure gave a lot.
Gary O'Neill, Oklahoma Natural Resources Conservation Service State Conservationist, said, "Oklahoma truly lost a conservation legend with the passing of Mr. Hal Clark. His leadership and willingness to spend countless hours promoting conservation helped farmers and ranchers all across Oklahoma and resulted in an improved Oklahoma landscape and a stronger conservation partnership. Mr. Clark will be remembered for his common sense approach to working with people and as one of the great Oklahoma private lands conservationists, he will be missed but always remembered."
Mason Mungle served as Executive Director of the Oklahoma Conservation Commission from 1986 to 1997.
Mungle said in the spring of 1982 he was in Washington D.C. with the first class of the Oklahoma Agricultural Leadership Program.
"Our group was going into Congressman Glen English's office and a group of Oklahoma Conservation Leaders were coming out," Mungle said. "This is the first time I met Hal Clark. This meeting would turn into a lifelong friendship. I was from Atoka and Hal was from Kenton. About as far away from each other as people can get in Oklahoma. Later on, I got more involved in Conservation Districts, the Oklahoma Association of Conservation Districts and the Oklahoma Conservation Commission. Governor George Nigh asked me to serve on the Conservation Commission from Southeast Oklahoma. One of the other members on the Commission was Hal Clark. Shortly after being appointed I was asked if I would be interested in becoming the Executive Director of the Commission to take Leonard Soloman's place. Hal Clark was Chairman of the Commission Board at that time and he and the Board approved my hiring."
Mungle described Hal Clark as a great advocate for the Oklahoma Panhandle.
"He started on me to come out and learn about that part of the state," Mungle said. "Hal was always incensed that some state maps showed the Panhandle at the bottom of the map, rather than attached to the northwest. I went out to the Cimarron County Conservation District's annual Christmas party in Boise City. This is the first time Hal introduced me as 'being from downstate.' I started introducing Hal as 'being from upstate.'"
Clark taught Mungle a lot about the Panhandle.
"We would go pheasant hunting around Guymon or he would have me go with the Cimarron County District Conservationist hunting and looking at different grasses that were being established through the Conservation Reserve Program," Mungle said. "Hal has always been a teacher and mentor to me. Hal would drive in for a 9 a.m. Commission meeting, then go to a Farmers Royalty meeting and then drive back home to Guymon or Boise City. Hal liked driving more than any person I ever knew."
Mungle said, "When Jan called me about Hal Clark's passing I thought about all the time Hal and I spent together and how much I learned about Conservation, Geology and Life. Hal Clark was my mentor and friend since that chance meeting in Washington D.C."
Trey Lam, current Executive Director of the Oklahoma Conservation Commission said, "Hal mentored scores of conservation district directors and shaped the careers of three OCC Executive Directors. Hal was a true gentleman, a scholar, a statesman and a friend to everyone in conservation."
Karl Jett, who in his 10th year of serving as Commissioner from Area I, lives near Slapout and was born and raised in Beaver County in the Panhandle.
"I knew him some before I became Commissioner, but not like after. Once I became a Commissioner, he just kind of adopted me, and he was a true friend" Jett said. "He had a tremendous passion for conservation. I would call him a true pioneer of conservation in the state of Oklahoma. He was also one of the nicest men I've ever met, and he always had a smile on his face."
Scotty Herriman, Vice Chair of the Oklahoma Conservation Commission, upon hearing of Hal Clark's passing, quickly said, "He was a tremendous man."
"When I was still a young man he was already well involved in conservation in Oklahoma," Herriman said. "I would have to say he was a pillar among conservationists. I always looked up to and always could trust Hal's leadership. I truly mean that. Gosh, I've watched him for 45-plus years and he never wavered. A true leader. It's easy for me to say that about him."
Ben Pollard said, "I had the good fortune of working for and with Hal during nearly all my 35 years at the Conservation Commission. Commissioner Clark was a consummate gentleman, dedicated conservationist, proud rancher, and a great champion for the Oklahoma Panhandle."
Pollard and Herriman shared a story about a trip that characterized Clark's leadership skills.
"One of my favorite Hal stories was the time he was leading a tour in Cimarron County for the Conservation Leadership Class," Pollard said. "It was the first week in December and it was spitting snow and the wind was blowing a gale from the north. We loaded up in a Boise City school bus for a trip to Kenton and the Black Mesa area. Hal was the tour guide and we stopped along a county road west of Boise City to look at a piece of ground and for Hal to describe some of the conservation challenges in Cimarron County. Well the bus stopped running. Hal didn't miss a beat. He called the Boise City School for another bus and continued telling stories until the backup bus arrived."
Note: Hal Clark was interviewed as part of the Oklahoma Conservation Oral History Project, to hear that interview please go to https://dc.library.okstate.edu/digital/collection/p17279coll13/search/