OCC Commends Jan Kunze & OGE Energy Corp.
Jan Kunze and OGE Energy Corp. recognized for ScienceFest Oklahoma
Jan Kunze, manager of Land Management Services for OGE Energy Corp. received a commendation from the Oklahoma Conservation Commission on Monday at the Commission's May board meeting. Ms. Kunze and OGE Energy Corporation were recognized for their sponsorship of the annual ScienceFest Oklahoma event. ScienceFest Oklahoma is an educational event for Oklahoma fourth and fifth grade students that provides learning opportunities about natural resource conservation and alternative energy. This year's event in April at the Oklahoma City Zoo reached over 3,500 students.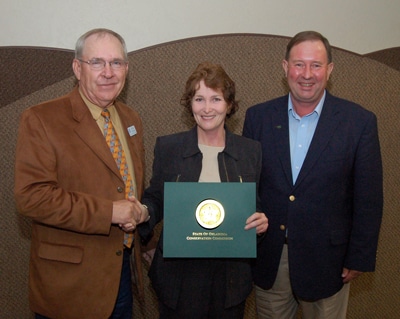 unze has coordinated the ScienceFest program since its inception six years ago. The Oklahoma Conservation Commission, along with several other local, state and federal agencies and organizations, partners with OGE Energy Corporation to plan and conduct the event. Karla Beatty, education coordinator for the Conservation Commission said that what started as a small, one-time program at a conference has turned into an annual, state-wide event that fourth and fifth grade teachers and students look forward to every spring. "ScienceFest is such a great program because of the partnership between all the agencies and organizations involved. No one agency or organization would be able to offer this type of program on their own."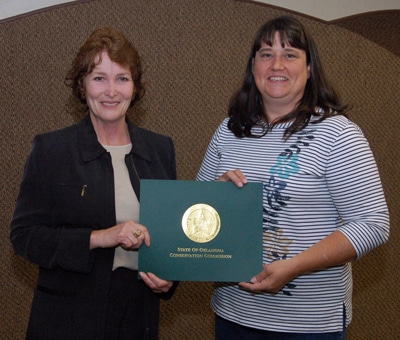 Other principal sponsors include the Oklahoma Department of Environmental Quality, Department of Commerce and the Office of the Secretary of the Environment. Other partnering organizations include the state Department of Education, Tourism and Recreation Department, Tinker Air Force Base, Oklahoma Mesonet and the OKC Zoo.
Mike Thralls, executive director of the Conservation Commission said Kunze's leadership is instrumental in the success of the ScienceFest Oklahoma program. "We appreciate OGE Energy for investing in Oklahoma's youth and providing an outstanding educational event that teaches the importance of natural resource conservation and environmental protection," Thralls said. "The Conservation Commission is proud to be part of this great statewide event."
At the Commission meeting Kunze and Beatty provided commissioners with an overview of the ScienceFest Oklahoma program. Ms. Kunze's commitment to conservation includes service on the board of directors of the Oklahoma County Conservation District.
More information on the event may be found at www.sciencefestok.com.